Xylan® XLR Uses In The Automotive Industry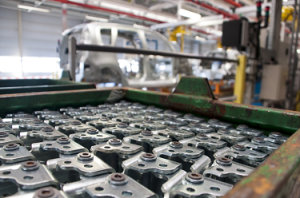 Xylan is an industrial coating that is often used in the automotive industry. It is a registered trademark of the Whitford Corporation. Xylan is a fluoropolymer, which is a polymer that is based in fluorocarbon and has strong carbon-fluorine bonds. Fluoropolymers, like Xylan, are highly resistant to acids, bases, and solvents.
Fluoropolymers are appealing for use as industrial coatings because they have properties that make them non-stick. They are also resistant to corrosion. The most common use for Xylan is for non-stick cookware. However, Xylan is also widely used in the automotive industry.
Xylan Application Process
Xylan is applied in a thin sheet. It is a great choice for situations in which the ideal construction material doesn't provide the appropriate surface properties. The Xylan adheres very well, even to surfaces that don't respond well to other types of PTFE coatings. This means that the ideal construction material can be used and then coated with a thin film of Xylan, which provides both the proper construction material and the proper surface qualities. For these reasons, automobiles are often coated with a thin film of Xylan. This allows for a finish that is smooth, and road debris is less likely to adhere to the surface. Xylan provides other surface protection properties, as well, including:
● Lubrication
● Controlled friction
● Wear resistance
● Heat resistance
● Nonstick properties
● Release properties
● Corrosion resistance
Types Of Xylan Polymers Used In The Automotive Industry
All these qualities are things that automobile owners value in their vehicle. There are a variety of formulations of Xylan, but Xylan 5230 is most used in automobile applications. Xylan 5230 is a controlled friction dip-spin coating that is solvent borne. It provides controlled torque tension and good corrosion resistance. It offers good resistance to automotive fuels, fluids, and lubricants; it can even withstand 240 hours of salt spray. Xylan resists chipping and flaking, as well. It does not contain any restricted heavy metals. Since Xylan can protect metal from corrosion, it is excellent for automobile applications. It protects the vehicle from exposure to elements like road debris, fuel, oil, and weather that could otherwise cause the surface of the auto to corrode. This provides a more durable vehicle with a longer useful lifespan.
Choosing the right industrial coating is a vital step in the development of your product. Fortunately, the experts at Coating Solutions have the experience and knowledge to guide you through that decision and make sure that your product has exactly the qualities and specifications that you need from it. Count on the experts at Coating Solutions for the highest level of technical detail and finish quality. To learn more about Xylan coated products, call us at (651) 762-5700.