Xylan® Coatings & Applications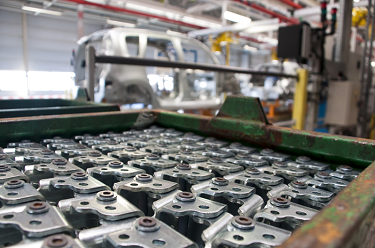 Xylan® Coatings: Xylan® is a brand-name fluoropolymer coating line created by the Whitford Worldwide Company, which specialized in the manufacture of low-friction, wear-resistance coatings for industrial applications and non-stick coatings for consumer products. The company was acquired by PPG Industries in 2019.
Basics of Xylan® Anti-Corrosion Coatings
The Xylan® line encompasses a range of fluoropolymer coating materials, all of which are designed to enhance the performance and/or extend the service life of a variety of industrial and consumer products. They can be made from various wear-resistant fluoropolymer composites, including polytetrafluoroethylene (PTFE), perfluoroalkoxy alkane (PFA), and fluorinated ethylene propylene (FEP) reinforced with binder resins and other agents. The result is high-performance coatings that can significantly improve the surface quality of components to boost functionality and/or longevity in demanding operational and environmental conditions.
Xylan® Key Properties
Some of the key properties Xylan® coatings provide to coated components include non-stick ability, a low-friction surface, chemical and corrosion resistance, extreme weather resistance, high heat resistance, UV resistance, and wear resistance.
Xylan® Applications
Due to their many benefits, Xylan® coatings are used for a variety of industrial and commercial parts and products. Typical applications include:
Bakeware/cookware: ideal for coating pots, pans, and other cooking and baking instruments, due to a non-stick and heat-resistant surface.
Food processing equipment: Food-grade Xylan coatings are applied to the surfaces of food processing equipment to decrease friction, stopping food materials from collecting on the surfaces.
Machined components: Xylan is commonly used to coat machined components for applications requiring dry lubrication and non-stick; it is often utilized on applications with tight tolerances (e.g., aircraft and automobiles).
Medical instruments: Xylan can be used on medical instruments utilized for diagnostic and exploratory testing operations.
Tooling: Xylan coated tooling is perfect for use in extreme environments (e.g., involving high temperatures or strong chemicals).
Xylan® Coatings Process
Xylan coatings can be applied to all types of metal substrates. Regardless of material, the application process typically proceeds as follows:
Removing any contaminants on the surface that can interfere with the formation of a quality coating layer
Abrading the surface using grit blasting or sanding methods to prepare it for the coating application stage
Masking any areas of the surface where coating material should not be applied
Applying the coating to the surface via a conventional spray, electrostatic powder, or dip-spin method
Thermally curing the applied coating to form a smooth and strong layer
Quality Xylan® Applications from Coating Solutions
Choosing the right industrial coating is a vital step in the development of your product. Fortunately, the experts at Coating Solutions have the experience and knowledge to guide you through that decision and make sure that your product has exactly the qualities and specifications that you need from it. Count on the experts at Coating Solutions for the highest level of technical detail and finish quality. To learn more about Xylan coated products, call us at (651) 762-5700.