Women Owned Minnesota Coating Business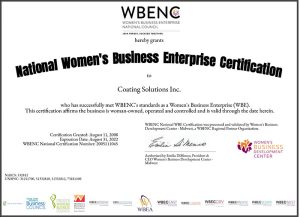 As a women-owned, small business in St. Paul, Minnesota, we know we have to work hard to succeed. We have been striving to make our mark in the coating application business for more than 25 years. We have been successful because of our connection to our customers, our fast turnaround, affordable pricing and high-quality application process. We realize that you have many choices when it comes to choosing a Teflon® and fluoropolymer coating company. So, why choose us? Here are just a few reasons:
1. Open Communication: We believe that communication is critical to our small business' success. We get to know our clients, we answer questions about your needs and, as a result, we are able to help guide you toward the perfect choice in coating. We are accessible, we answer our phones and check our emails regularly. We make our clients feel like family. After all, our clients are the reason we are here.
2. Consistent Process: We follow a very careful six-step process, no matter what type of coating we are applying. We also inspect the item after each step to be sure that the process is completed correctly. This consistency in process brings clients back to us with additional coating application jobs.
3. Expedited Shipping: We also realize that you cannot afford to be out of production for any longer than you absolutely have to. So, we work with you on the best time to send us your parts and equipment and we ship these back to you ASAP. We even offer rush shipping when needed.
4. Competitive Pricing: Our prices are competitive, and we do not charge anything more (or less) whether you need 1 item coated or 100 items.
5. High quality work: We would not have made it 25 years if we did not offer a high-quality product. This is central to our work. If you have questions or concerns about a finished product, we will stand behind our work and make it right.
Experienced Teflon And Fluoropolymer Coating Application Company In MN
So, when you are thinking about choosing a coating application company to partner with, consider reaching out to Coating Solutions. We can help you choose the coating type that you need and make sure that your job can be completed in the timeframe you need. We will give you the personal touch you deserve. For more information about our women owned small business, call us at 651-762-5700.