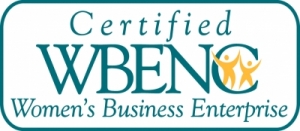 Coating Solutions is extremely proud to be recognized by the Women's Business Enterprise National Council as a woman owned and operated business. What does this mean to our team? Well, we have an unfailing commitment to quality, service and pricing and we decided this when we opened our doors in 1995. We knew then that breaking into the Teflon® and fluoropolymer coating application industry would not be easy. There are many companies around the country that provide this service. So, we decided to set ourselves apart from the competition by setting the standard for quality. This is our focus:
How we Set Ourselves Apart From the Competition
Commitment to Excellence: Coating application is a tedious process and corners can be cut to save time and money. Coating Solutions follows an extensive 6 step process for coating every single piece of large equipment or small parts. Covering items with Teflon® or another fluoropolymer coating is very specific and each step must be followed carefully in order for the coat to function properly and last. Our team thoroughly inspects each item during the coating process to ensure that every step is done right. This guarantees our customers satisfaction.
Fast Turnaround Time: Coating Solutions also understands that you cannot stop production for a significant period of time to have your equipment or parts coated. This is why we offer the fastest turnaround time in the business. We offer 24 hour rush shipping, which can get your item(s) back to you in just a matter of days. Even without rush shipping, our turnaround is typically 3-5 days so that you can get back to production fast and keep production moving.
Low Minimum Lot Charge: As a small business ourselves, we understand that different businesses have different needs. We see no reason to charge more if you have fewer items to coat, so we also offer the lowest minimum lot charge that you will find. This means that no matter whether you need one item coated or 100, we will do the job for a consistent price.
Strong Customer Service: Since opening in 1995, we have made it our mission to provide the best possible customer service to our clients. We answer the phone, answer questions and are friendly and available for you.
Reach Out to Coating Solutions Today!
If you have equipment or parts that you need coated with Teflon® and fluoropolymer, call the team at Coating Solutions at 651-762-5700. We will work every day to earn and keep your business!