The Benefits Of Teflon® and Fluoropolymer Coatings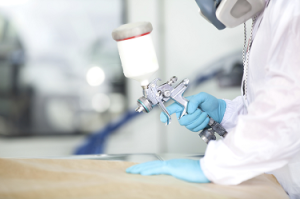 No matter what type of industry you may be involved in, there is often a need for Teflon® and Fluoropolymer coatings. Teflon® and other Fluoropolymer coatings can be utilized for so many different industries. From your food packaging industry to your aerospace dynamics industries, Teflon® and Fluoropolymer coatings can play a crucial role in both your production and your products. Do not sleep on the benefits of all that Coating Solutions has to offer!
Nonstick Surface
If your machinery is having issues with items sticking, then a Teflon® or Fluoropolymer coating may be your perfect solution. When thinking of these coatings, you can think back to your mom's favorite frying pan. As your sunny side up egg sizzles, the egg just sloths and slides around, sticking to nothing! While you may not be frying up any eggs in the aerospace industry, nonstick surfaces can still be very useful! Whether you are creating engine molds or trying to avoid getting products stuck during production, non-stick surfaces are a nice benefit to Teflon® and Fluoropolymer coatings.
Temperature Resistance
That's right! Your machinery can be resistant to temperature with a simple Teflon® and Fluoropolymer coating. This is incredibly useful for commercial baking industries, lighting industries and general packaging for all industries. Looking for a certain resistance? Coating Solutions can help you decide the perfect type of coating that fits your needs.
Non-Friction
If you are trying to limit the amount of chemicals or additives you place into a product in order to make it work, having a non-friction coating is the right decision. Teflon® and Fluoropolymer coatings act as a dry lubricant so that machinery can work together much easier. This is especially beneficial to the automotive, housewares and hardware industries, but truly, it's beneficial for every industry around!
Nonwetting
Tired of cleaning up your machinery all the time? Cut that time in half with Teflon® and Fluoropolymer coatings. Due to the nonwetting characteristics of these coatings, your nonporous surface will bead of any water, making it an easier cleanup and a cleaner surface!
There are so many benefits to Teflon® and Fluoropolymer coatings. However, there is no company that does it better than Coating Solutions. With low minimum lot charges, fast turnaround times and the highest quality of Teflon® and Fluoropolymer coatings on the market today, Coating Solutions is the only solution worth choosing. For more information about our services and the benefits of Teflon® and Fluoropolymer coatings, give us a call today at (651) 762-5700 or send us an email at sales@coatingsolutions.com.