Teflon® or Fluoropolymer Coating Application Process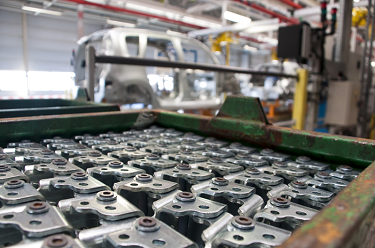 If you have decided to get your company's parts and equipment professionally coated, you have many options when it comes to choosing a professional coating application company. One of the most important things to consider is the quality and consistency of the coating application process and the turnaround time. Coating Solutions is a small business that takes great care in these two areas. Our coating application process is consistent and efficient so that we can provide the highest quality final product with the shortest turnaround time possible. Here is an overview of the steps we follow for each and every Teflon® or Fluoropolymer coating application job, no matter what type of coating we are applying.
Teflon® or Fluoropolymer Coating Process
Prebaking the substrate: The very first step in the coating application process removes all existing oils so that the new coating can stick consistently and correctly. If this prebaking process does not happen, most coatings are unable to adhere at all.
Grit blasting: The next step is grit blasting the substrate to remove any corrosion, rust and other previous coatings. We use aluminum oxide for this step as it does the best job of roughening the surface so that a new coating can be applied evenly.
Spraying the fluoropolymer: Next we spray the surface with the coating that you have chosen. We use the manual spray method so that the coat is smooth, consistent and even. If you have questions about types of coatings, we can help you with that as well.
Curing the substrate: Curing the substrate is dependent on the coating that you have chosen. Our staff knows exactly what the curing temperature is for each substance and will make sure that this process is completed correctly.
Quality inspection: After each coating application job, we thoroughly inspect the parts and equipment for any potential defects. We stand behind our work and we consider our quality inspection as one of the most important parts of our process.
Package and ship: Finally, we carefully package the coating products and ship it out to you as soon as possible so that you minimize the time that you are out of production. We understand that time is money, so we offer rush shipping when necessary.
Coating Application Company in Minnesota
Coating Solutions is a small business that treats our customers like family. If you are interested in learning more about our Teflon® or fluoropolymer coating application process, give us a call today at 651-762-5700.