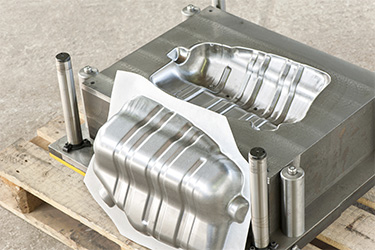 There are many reasons that industrial companies have their machinery parts coated with PTFE Teflon® and other fluoropolymers. The advantages of these coatings enable businesses to get more life out of their parts as well as maximize production. Coating Solutions is based in Minnesota but is an applicator of Teflon® and other fluoropolymer coatings for industrial companies all over North Dakota. And the reason that they prefer to send their parts to us is simple: we have the lowest minimum lot charge in the industry as well as an extremely fast turnaround and one day rush available. Regardless of industry, our customers are extremely pleased with the high quality coatings that we produce for them. And with a low minimum lot charge, they know we won't gouge them if they just need a part or two coated. So if you need a reliable Teflon® coating company to handle your needs, contact Coating Solutions today. Your business will benefit.
Food Processing Teflon® Coatings ND
Teflon® coatings benefit the food processing industry greatly. The most commonly known properties of Teflon® – nonstick and temperature resistance – make it a fantastic coating for parts that will be making contact with food. Teflon® coated parts make it so that food doesn't stick to parts, therefore streamlining production. And because of the temperature resistance of fluoropolymers, they don't wear off when food processing machinery parts are exposed to high heat during baking processes. Also – back to nonstick – the fact that food doesn't generally adhere to parts makes them easier to clean at the end of the day, saving expenses on labor and cleaning chemicals. So if you are a food processor and want to maximize production, contact Coating Solutions for high quality and affordable Teflon® coatings.
Machine Shop Teflon® Coatings North Dakota
For machine shops that have customers who request that newly fabricated parts be coated with Teflon® or another fluoropolymer, Coating Solutions is their top choice. Our fast turnaround and low minimum lot charge enables the machine shop to get the part to the customer faster and the financial savings of our coatings can also be passed on to the customer. This two-fold approach creates repeat customers for machine shops that work with Coating Solutions. If you are in North Dakota and have a customer needing a new part coated, contact us today and we will take care of it for you.
High Quality Coatings
Coating Solutions has been working in the fluoropolymer coating industry since 1995, and our customers across a swath of states can attest to the high quality coatings that we produce. And our low minimum lot charge and fast turnaround allow industrial businesses to save money when they work with us. If all this sounds good to you, contact us today and we guarantee you won't be disappointed.