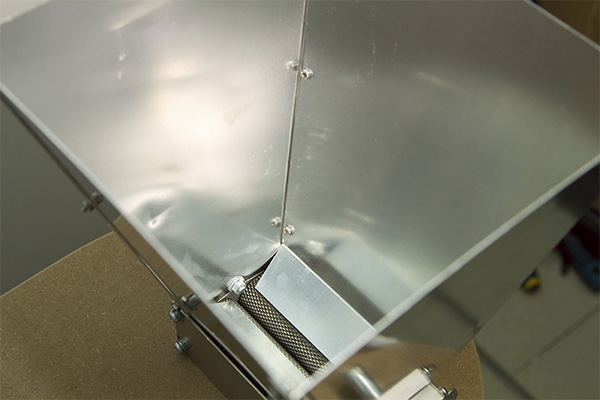 Teflon® coatings allow industrial companies to get the most life possible out of their machinery parts. No matter if these parts need to be nonstick, temperature or chemical resistant, or nonwetting, among other things, Teflon® and other fluoropolymer coatings will enable them to operate at maximum efficiency. Coating Solutions, based in the Twin Cities, has been an applicator of Teflon® and other fluoropolymer coatings since 1995. Not only do we provide high quality coatings for our customers, but we also have a fast turnaround with one day rush available and the lowest minimum lot charge in the industry. When customers come to us, they are able to extend the life of their machinery parts, allowing them to save capital from replacement parts and extra labor. So no matter why you need parts coated with Teflon® or another fluoropolymer, look to Coating Solutions as your first choice to get the job done. We will coat one part or a thousand parts, and everything in between.
Food Processing Teflon® Coatings MN
Teflon® coatings can significantly help the food processing industry and their machinery parts to function at top volume. The primary properties that these coatings are known for – nonstick and temperature resistance – can dramatically increase the time spent producing and decrease the time spent maintaining machinery and performing upkeep. With the advantage of nonstick on machinery parts, food is able to slide easily down production lines without sticking and causing delays. And with the temperature resistance that these coatings have, they won't wear off during baking processes. If you need high quality and low cost Teflon® coatings, contact Coating Solutions today.
Teflon® Coatings for Machine Shops
Machine shops in Minnesota frequently contact Coating Solutions for any requests of Teflon® coated parts. After a new part has been fabricated, they send it over to us to have it coated with a fluoropolymer at the customer's request. And the reasons that many machine shops send new parts to us is simple: our low minimum lot charge enables those saving to be passed on to the machine shop's customer. And our fast turnaround allows the part to get into the hands of the customer more quickly. It's a win-win for everyone involved. So if you have a customer requesting that a new part be coated with Teflon® or another fluoropolymer, call Coating Solutions to get the job done.
Professional Teflon® Coatings MN
Coating Solutions has been working in the Teflon® and fluoropolymer industry since 1995. The coatings that we produce for our industrial customers enable them to streamline production and save money. And our low lot charge and fast turnaround ensure that our customers are always satisfied. If this sounds good to you, contact us today and we guarantee you won't regret it.