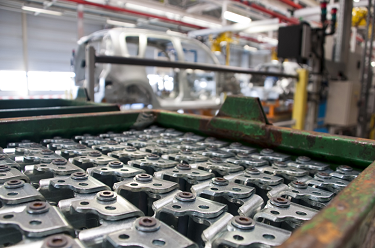 Many companies need the benefits that industrial Teflon® and other fluoropolymer coatings provide. Whether these companies are working in the automotive industry, general manufacturing, or food processing is no matter – these coatings are useful for all companies. And finding the right coating company, like Coating Solutions (located in the Twin Cities), is very important for many businesses. We have been working with industrial Teflon® and other fluoropolymer coatings for more than 20 years, and besides the fact that we produce high quality coatings – which most every coating company does – there are two main reasons that our customers from all around the Midwest and the country call us whenever they need something coated: we have the lowest minimum lot charge in the industry and an extraordinarily fast turnaround with one day rush available. So whatever reason you need industrial Teflon® or other fluoropolymer coatings – be it for nonstick or dry lubricant, temperature or chemical or abrasion resistance, nonwetting, or something else – you can be sure that we will take care of it for you quickly and at a fair price. If this sounds pretty good to you, contact us today and see what we can do for you.
Automotive Coatings MI
Companies working in the automotive industry have many needs for parts coated with Teflon® or another fluoropolymer. Machines and their parts that produce automotive parts need to perform properly in order to manufacture parts correctly every time. These parts need to be able to withstand high temperatures for molding, they need to be self-lubricating, and they need to be resistant to abrasions, among other things. Well when machinery parts are coated with Teflon® or another fluoropolymer, all of this can be achieved. These coatings can protect machinery parts from wear and ensure that everything moves smoothly. So if want your machinery parts to be more reliable and productive, give us a call today. We will have your operation running better in no time.
Manufacturing Teflon® Coatings Michigan
Just like businesses working in the automotive industry, businesses working in other manufacturing areas can benefit from their machinery parts being covered in Teflon® or another fluoropolymer coating. If you need these coatings, contact us today and we guarantee you'll be pleased with the results.
Food Processing Coatings
Many companies need FDA approved nonstick coatings so that their food processing operations run more smoothly. Besides nonstick, these coatings also provide machinery parts with resistance to extreme temperatures, so they won't wear away during cooking processes. Many of our regular customers work in food processing, and we know we can give you exactly the coating that fits your needs.
When you go with Coating Solutions, you will have found your Teflon® coating company. Our low minimum lot charge and fast turnaround will guarantee your satisfaction and have you coming back. Give us a call today and you won't go wrong.