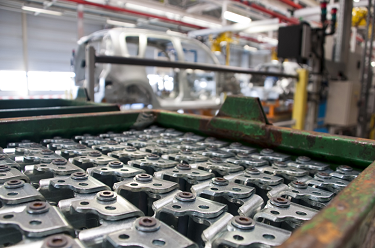 Teflon® coating is not just for your kitchen's pots and pans any longer!  Teflon® and fluoropolymer coatings can protect, extend the life and add function to many different types of equipment and products in a wide variety of industries in the Michigan area.  Teflon® and fluoropolymer coatings are ideal for use in the automotive, manufacturing and food processing industries.  Coating Solutions of Minnesota provides industrial coating applications for customers in the Lansing, Michigan area and all over the country.  Our team understands that when you need an item coated, you need it done fast and you need the process to be affordable.  We deliver, offering the fastest turnaround time and lowest minimum lot charge in the business.
Industries Benefitting From Teflon® Coating
The unique properties of FDA approved coatings make them ideal for use in a wide variety of industries in our country.  One example is in the automotive industry.  Chemours® Teflon® industrial coatings can be used on carbon steel, aluminum, stainless steel, steel alloys, brass, and magnesium, as well as on non-metallics such as glass, fiberglass, and plastics. These coatings work well as a dry lubricant for seat belt clips, as an example. And the coatings are also excellent at preventing corrosion for pistons and fasteners.
Properties of Teflon® Coatings Lansing Michigan
Teflon® coating is perhaps best known for its nonstick quality, but it is also nonwetting, and offers temperature resistance, abrasion resistance, chemical resistance and corrosion resistance when used as an industrial coating. Put together, these qualities make Teflon® and fluoropolymer coatings perfectly suited for many industries including the automotive, manufacturing, food processing, packaging machinery, the paper industry, aerospace and the military, to name just a few.
Trust Coating Solutions For High Quality Coating Application
Coating Solutions has been in the industrial coating business since 1995 and has built a strong reputation for providing superior customer service and high quality coating application on each one of our jobs.  Our team understands that you have many choices when it comes to an industrial coating company, so we strive to stand out in any ways that we can.  We offer extremely fast turnaround time — with a next day rush option available and a low minimum lot charge, meaning that whether you need one piece of equipment coated or 100, you will not be charged more for a smaller job.  Call Coating Solutions today at 651-762-5700 for more information or to partner with our team.  No matter what you need coated, we can help.