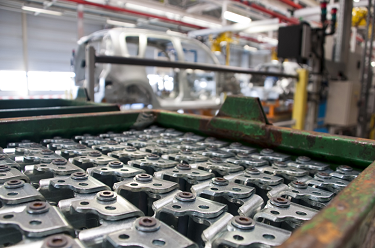 There are many reasons for industrial companies to use Teflon® and other fluoropolymer coatings. From abrasion and chemical resistance to nonwetting and nonstick, these coatings can accomplish what you need them to in order for you to work better and more efficiently. And Coating Solutions has been working with these coatings for more than 20 years. We are located in the Twin Cities and we provide customers around the country with high quality Teflon® coatings. No matter where customers are located, they contact us for their coatings needs due to the fact that we have the lowest minimum lot charge in the industry and a fast turnaround with one day rush available. So if you need reliable Teflon® coatings, contact us and you can be sure you'll get exactly what you need.
Automotive Coatings
Many automotive manufacturers have needs for industrial Teflon® coatings. Sometimes they need fluoropolymer coatings to protect their machinery parts and keep them operating smoothly, and sometimes they need coatings for the parts they are manufacturing. We have helped automotive companies with needs in both of these aspects. Fluoropolymer coatings have many benefits for automotive companies, whether as high release coatings, abrasion resistant coatings, temperature resistant coatings, or nonwetting coatings. But no matter why you need coatings for your automotive company, just know that Coating Solutions can take care of any job you need in a timely matter and at a fair price to you. It's how we help.
Food Processing Teflon® Coatings Kansas City
Food processing companies use Teflon® and other fluoropolymer coatings every day. These FDA approved coatings allow food processing companies to produce more and waste less. This is due to the fact the Teflon® and other fluoropolymers are temperature resistant and nonstick coatings. Food will slide down production lines much more easily after machinery parts have been coated with a fluoropolymer, and they also fall out of molds better. This ensures that food processing companies get a more uniformed product and aren't throwing away as much product because it can't be sold or is stuck inside a mold. And because food product is no longer adhering to machinery parts like it used to, these parts are easier to clean later. So if you need coatings for your food processing operation, contact us today and let's get started.
Coating Solutions has been working with Teflon® and other fluoropolymer coatings for more than 20 years. Our fast turnaround, high quality, and low minimum lot charge have kept many customers coming back for years. Give us a call today and let us know what you need.