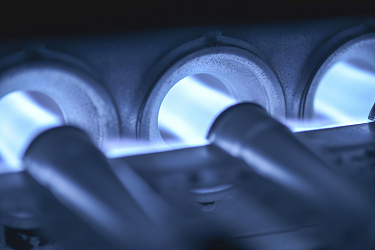 Part of being a smart business owner is understanding your product and understanding the best ways to make it run. We, as American business owners, should be looking for the most economical ways to produce our products. After all, there's nothing better than being able to say, "made in America." Whether you are in the food processing, machinery, chemical, or paper industry, Coating Solutions, Inc., can help to make your business flow. Serving all different types of manufacturing in Idaho, let Coating Solutions Inc., show you how to make the most out of your business.
Food Processing
The art of making food almost always has some sort of stickiness to it. Whether you are building food processing products or making the food yourself, Teflon® is the perfect solution for the food processing industry. So what exactly are the benefits to Teflon®?  Common benefits include:
Non-stick
Non-wetting
Temperature Resistant
Abrasion Resistant
Chemical Resistant
Corrosion Resistant
Dry Lubricant or Self Lubricating
Additionally, we have FDA approved coatings, making it safe for both you and the consumer.
Machinery
What's important in a machinery shop? How exactly do you get everything to function without tons of friction? If you've ever heard metal collide together, it's not a pretty sound and it really wears down the machine. By coating your machinery with Teflon®, you allow it to run smoothly by incorporating the following characteristics:
Non-stick and Non-wetting
Have Heat Resistance
Corrosion Resistance
Abrasion Resistance
Chemical
At Coating Solutions, Inc., we of all people know that it's difficult to be in any type of chemical making industry. Why? Well, if your chemical is potent – it can easily break down whatever is being used to make it! That's why Teflon® is so perfect for the job! Teflon® has chemical resistance, meaning that your product will not break it down. Its non-stick and non-wetting feature helps to glide your product along, without any corrosion or ruin to follow it.
Paper Industry Teflon® Coatings Idaho
The paper industry uses Teflon® regularly to help their machinery operate much more efficiently. The fact that Teflon® is non-wetting and nonstick allows paper to not cling to rolls, jam the machines, and ultimately, it's a big money saver.
So why choose Coating Solutions, Inc., as your Teflon® coating center in Idaho? Not only do we have a quality Teflon® product, we offer a low minimum lot charge and an incredibly fast turnaround time. While we are located in Minnesota, we offer 24 hour rushes on products you need fast! If you are looking to enhance your business or product with Teflon®, look no further than your friends at Coating Solutions Inc. For more information, give us a call today at (651) 762-5700 or send us an email at sales@coatingsolutions.com.