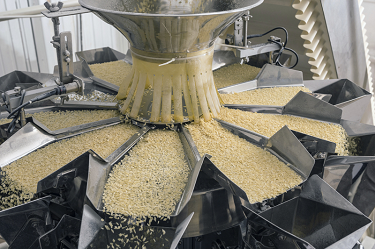 Fast turnaround. Low minimum lot charge. Quality guaranteed. These are different ways that Coating Solutions Inc., separates ourselves from other Teflon® coating companies. Located in Minneapolis, MN, we service all areas of the country, particularly in Grand Forks, North Dakota. While the average person will only recognize Teflon® as something that protects a frying pan, customers in the food processing, manufacturing or even aviation and aerospace will understand that industrial Teflon® is one of the ways to protect machinery and essentially provide the coating that it takes to make things run well!
Food Processing Teflon® Coatings Grand Forks
While not many of us can be experts in the aviation and aerospace department, everyone knows what it's like to have food get stuck on something when you are trying to cook it. This is where we can help. The food processing industry has certain needs that our Teflon® coating can fulfill. Our product is nonstick, nonwetting, temperature resistant, abrasion resistant, chemical resistant, corrosion resistant, and self- lubricating. The sky's the limit with Teflon® in the food processing industry. All of our products are FDA approved coatings so that you don't have to worry about the safety of your end product. Additionally, the lubricity of Teflon® makes it easy to clean, saving you time and money with lower maintenance costs.
Manufacturing Coatings
Conveyor belts, jaws, plates, heat seal bars…These are all packaging machinery parts. Can you imagine how much abrasion and heat can go into an industrial packaging company? Teflon® has temperature resistance as well as abrasion resistance. So while manufacturing may take a toll on machinery, our Teflon® will help keep your machinery safe and corrosion resistant.
Aviation and Aerospace
Teflon® has been used in aerospace and aviation since the Apollo space program. It was even used in the first space suits that went into orbit! Having a Teflon® coating that offers abrasion resistance and is nonwetting is an important part of aviation. Frequently, aircrafts and helicopters will use Teflon® to help decrease friction.
So what separates Coating Solutions Inc., from the rest? While we offer the same great features as anyone else, Teflon® is a great product, we go a step further in our application. Due to our experience and quality work in the past, we have the ability to offer a low minimum lot charge. This means you will get more for your money. Not only are we a financially sound choice, but we offer a fast turn around like no other. We even offer 24 hour rushes for industries that need something done fast. For more information about Teflon® coatings in Grand Forks, ND, give Coating Solutions Inc., a call today at (651) 762-5700 or email us at sales@coatingsolutions.com.