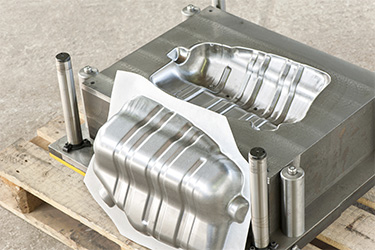 Teflon® and other fluoropolymer coatings are useful for an array of properties. Industrial companies – whether requiring nonstick, nonwetting, etc. – utilize these coatings for many purposes. For businesses operating out of Golden Valley or the Twin Cities metro, Coating Solutions is your go-to choice for industrial coatings. We've been working with industrial coatings for more than 20 years, and our high quality coupled with the lowest minimum lot charge in the industry and a very fast turnaround has kept customers coming back year after year. If you need Teflon® coatings for whatever reason, contact us and we will take care of it for you.
Packaging Machinery Teflon® Coatings Golden Valley MN
Covering packaging machinery parts is routinely coated with Teflon® or another fluoropolymer so that it can function properly and at top production rates. Fluoropolymer coatings are well-known for their nonstick and temperature resistant properties, and both of these can significantly help packaging machinery operate properly. Thin foils and plastics won't stick to machinery parts after the parts have been covered with a nonstick coating. This helps everything run more smoothly as product isn't getting stuck in the machinery. And because of the temperature resistance of these coatings, they won't wear off when exposed to high heat such as during sealing processes. If you're working with packaging machinery, fluoropolymer coatings for machinery parts are a must. Contact Coating Solutions today for Teflon® coatings you can count on.
Food Processing Coatings
Just like packaging machinery, food processing machinery benefits greatly from having fluoropolymer coatings applied to it. The nonstick of Teflon® helps food come out of molds properly and slide down production lines. And because it won't wear away when exposed to high heat, it can withstand baking processes. Fluoropolymer coatings help companies working in food processing save costs and maximize production. And they are much more inexpensive than using exotic metals for machinery parts. So if you need fluoropolymer coatings for your food processing machinery in Golden Valley or around the Twin Cities metro, contact Coating Solutions today.
Experienced Fluoropolymer Coatings
Coating Solutions is a family owned and operated company and has been working with fluoropolymer coatings in the Twin Cities for more than 20 years. We produce high quality coatings at affordable prices for our industrial customers around the state and the country. We have the lowest minimum lot charge in the industry and a very fast turnaround with one-day rush available. If you are looking for coatings for your industrial machinery, look no further than Coating Solutions.