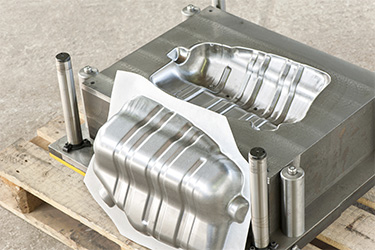 Teflon® and other fluoropolymer coatings help industrial businesses with their bottom lines. These coatings are great for a variety of uses and can be utilized by companies working in varied industries. Coating Solutions, located in the Twin Cities, has been an applicator of Teflon® and other fluoropolymer coatings for more than 20 years. We have customers who contact us from around the country due to the fact that we not only produce high quality coatings, but also have the lowest minimum lot charge in the industry and an extremely fast turnaround. No matter if you need FDA approved coatings for food processing purposes or coatings that can hold up to the most corrosive of chemicals, we will take care of it for you. So contact us today for your professional coating needs and we guarantee you won't be disappointed.
Machine Shop Coatings
We get calls every week at Coating Solutions from machine shops that receive requests from their customers that newly fabricated parts are covered with a fluoropolymer coating. And machine shops often call us for their customers' coating needs because they know we produce high quality coatings and our low minimum lot charge means that the cost savings can be passed on to machine shops' customers. And everyone is pleased with that. Additionally, whenever a machine shop needs fluoropolymer coatings for their own purposes, they know who to call. So if you have a customer requesting that newly made parts are coated with a fluoropolymer, contact Coating Solutions today.
Food Processing Teflon® Coatings Fort Dodge IA
Food processing companies have tremendous need for Teflon® and other fluoropolymer coatings for their machinery parts. Nonstick coatings – what Teflon® is most known for – helps food processing companies maximize production and minimize waste. When machinery parts are covered with a nonstick coating, food slides easily down production lines, minimizing the need for slowdowns or stoppages to unclog product. Also, when molds are covered with nonstick coatings, food falls out easily, eliminating waste from products that aren't uniformed. Not to mention, because food is no longer clinging to machinery parts, cleaning is easier, takes less time, and businesses can save expense due to extra cleaning chemicals and labor. And lastly, because these coatings are resistant to extreme temperatures, they won't wear away when exposed to high heat such as during baking processes.
Chemical Processing Coatings
Fluoropolymer coatings are resistant to almost all known chemicals, and this makes them great for covering parts that are used in chemical processing. If you are working with highly corrosive chemicals and are concerned about machinery parts, have them coated with a fluoropolymer.
Coating Solutions has been working with Teflon® and other fluoropolymer coatings for more than 20 years. Our high quality, low minimum lot charge, and fast turnaround have kept people coming back to us for many years. If this sounds like what you need, contact us today.