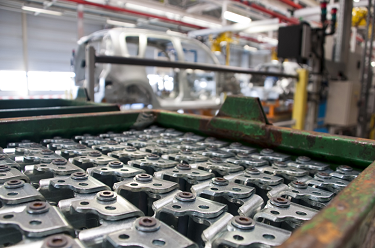 Industrial fluoropolymer coatings such as Teflon® help companies be more productive and maximize profits. These coatings can be used for a variety of purposes, whether as temperature resistant coatings or abrasion resistant coatings, nonstick coatings or chemical resistant coatings. Coating Solutions is located in the Twin Cities and we have been working with Teflon® and other fluoropolymer coatings for more than 20 years for industrial customers around the Midwest and the country. We handle orders both large and small, from a single part to thousands, and any size part as well. In fact, the reasons that so many customers call us whenever they need fluoropolymer coatings are that we have the lowest minimum lot charge in the industry (so if you have a single part to coat, we're the people to call), have a very fast turnaround (one day rush available), and produce high quality coatings (as expected). So no matter why you need Teflon® or other fluoropolymer coatings, whether for automobile manufacturing, packaging machinery, food processing, aerospace or more, we're the people who can get the job done right. Give us a call today and let's get started.
Auto Manufacturing Coatings
Teflon® and other fluoropolymer coatings are great for companies working in automobile manufacturing. These coatings can protect machinery parts to ensure that they last longer and can produce more per part, as opposed to being replaced when the part deteriorates quickly. Whether you need abrasion resistant or chemical resistant coatings, coatings that are stable when exposed to extreme temperatures, nonwetting coatings, or something else, we can take care of it for you. Contact us and let's get on a path to making your automobile manufacturing plant more productive.
Packaging Machinery Teflon® Coatings Detroit
Packaging machinery has many needs for Teflon® coatings. These coatings are nonstick and temperature resistant, so thin films and foils won't stick to machinery parts throughout the production line. This minimizes chances of product adhering to machinery, which can log jam an operation. And because the coatings are temperature resistant, they won't wear away during heat sealing, enabling you to get more life out of each coating and also protecting your machinery parts.
Coating Solutions has producing industrial Teflon® coatings for customers around the country for more than 20 years. Our low minimum lot charge, high quality, and fast turnaround have many customers calling us whenever they need a fluoropolymer coating. Whatever you need Teflon® or other fluoropolymer coatings for, give us a call today and we'll get the job done.