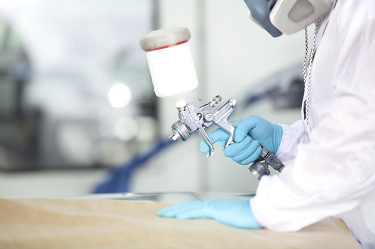 Teflon® and fluoropolymer industrial coatings are ideal for use in many industries like manufacturing, machine shops, prototype developers, food processing, energy, lumber and paper in the Charleston WV area.  This coating provides important increased function and protection that can help extend the life of equipment and make it much easier to clean.  Coating Solutions is a family owned  business that has been providing fluoropolymer coatings to industries all over the country since 1995.  Our team recognizes that you may have many choices for this service, so we strive to stand out by providing unparalleled customer service, fast turnaround and a low minimum lot charge, so whether you need one piece of equipment coated or 100 pieces, you will pay the same rate.
Unique Properties of Teflon® and Fluoropolymer Industrial Coatings
There are many unique properties of Teflon® and fluoropolymer industrial coatings that make it an ideal solution for the manufacturing, food processing, energy, lumber and paper industries as well as machine shops and prototype developers. For example, if you coat machines and equipment like mixers, beaters, blades, waffle irons and bread pans, the nonstick property of fluoropolymer will keep food from sticking and building up on the equipment. This saves money and time, making the equipment much easier to clean and less likely to need routine maintenance.  This nonstick property is also useful in the paper industry, by coating the press rolls used which operate more efficiently when coated.  The nonstick property of Teflon® and fluoropolymer coatings may be one of the most important and well-known qualities for other industries like manufacturing (coatings for steel), prototype developers, and the energy and lumber industry.
Teflon® and fluoropolymer coatings are also very beneficial when used in packaging machinery parts. The primary properties that these coatings are known for, nonstick, temperature resistance, abrasion resistance, that make them ideal for parts used in machines that produce packaging. Machine shops use fluoropolymer coating because of the nonstick and nonwetting properties, as well as temperature resistance, chemical resistance and corrosion resistance unique electrical characteristics, and a low coefficient of friction, reducing the amount of friction between moving parts.  This lubricity allows the coating to be used a dry lubricant.
High Quality, Affordable Teflon® Coatings Charleston WV
If you are in the Charleston, WV area and need equipment professionally coated using the FDA approved fluoropolymer coating, look no further than Coating Solutions. Our team can meet your coating needs quickly, and can get equipment back to you in a matter of days.  We also offer the lowest minimum lot charge possible, so you know that you are not paying too much for the coating service.  Call (651) 762-5700 for more information.