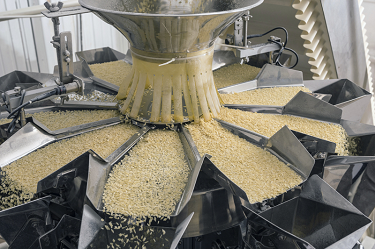 Do you need a reliable Teflon® coating company to handle the coating needs of your industrial company in Arkansas? If so, then look no further than Coating Solutions. We have been providing Teflon® and other fluoropolymer coatings to industrial companies for more than 20 years, and customers contact us due to the fact that we have the lowest minimum lot charge in the industry, a very fast turnaround with one day rush available, and produce high quality coatings. Regardless of why you need Teflon® coatings, be it for abrasion resistant coatings or chemical resistant coatings, nonwetting coatings or lubricity, we can take care of it for you properly and quickly, so that you can get back to work with that coatings you need to be productive. Give us a call today, let us know what you need, and we'll get started on coatings for you.
Food Processing Coatings
Companies working in food processing have tremendous needs for FDA approved coatings. Food processing companies produce more and save expenses when their machinery parts are covered with nonstick coatings and temperature resistant coatings. These coatings allow food to move smoothly down production lines and fall out of molds seamlessly. They also make cleaning machinery parts much easier. And because these FDA approved coatings are temperature resistant, they won't wear away when exposed to high heating during cooking processes. If you need fluoropolymer coatings for your food processing operation, contact us today.
Automobile Teflon® Coatings Arkansas
Automobile manufacturers can benefit from their machinery parts being covered in a fluoropolymer coating such as Teflon®. These coatings are abrasions and chemical resistant, as well as temperature resistant and self-lubricating, meaning they can withstand anything that machinery parts must go through while manufacturing automobile parts, ensuring longer life-spans. This makes Teflon® and other fluoropolymer coatings extremely useful for any company working in automobile manufacturing. Contact us today if these are the kind of coatings you are looking for.
Coatings for Electrical
Teflon® and other fluoropolymer coatings have unique electrical abilities, including as an electrical insulator, and this makes them useful when combined with electrical equipment. The dielectric properties of fluoropolymer coatings means that they can be used for many electrical uses. If you are looking for an electrically conductive coating, give us a call and we'll get started.
Teflon® Coating Company
Coating Solutions has been working with Teflon® and other fluoropolymer coatings for more than 20 years. We are located in the Twin Cities and customers around the country contact us due to our low minimum lot charge, fast turnaround, and high quality. Contact us today if this sounds good to you.