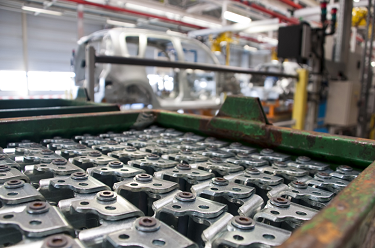 In Toledo, there are many different industries that benefit from Teflon® coatings. Automotive, manufacturing, and prototypes are among the many that dominate Toledo, Ohio. So it's only fair that Coating Solutions Inc. offer Toledo's leading industries a chance to get their products coated by the best. At Coating Solutions Inc., we offer fast turnaround times and a low minimum lot charge for companies that are leading today's industries. If you are looking for a place that does quality Teflon® coatings, look no further than Coating Solutions Inc.
Automotive Teflon® Coating Toledo
Pop the hood of any well made car and it is likely that you will find some Teflon® coating on top of the engine. Teflon® dominates the automotive industry as it has the temperature resistance, abrasion resistance, chemical resistance, and lubricity that automotive parts need. The lubricity of Teflon® also makes it a great option for seat belt clips and other objects even in the interior of the car.
Manufacturing
No matter what you are manufacturing, machines generally dominate the work. Having the parts of those machines coated with something that is self lubricating and corrosion resistant can really make a big difference in the life expectancy of that machine! By applying a coat of Teflon® to your parts, you are able to manufacture objects that will not stick or rub to the machinery. Why? Because Teflon® is nonstick, nonwetting, and abrasion resistant.
Prototypes
Perhaps you are in need of several prototypes for a brand new invention or style of product. Wouldn't it make sense to coat that product with something that improves it? Pitching a prototype is hard, adding "chemical resistance" and "FDA approved coatings" to the list of advantages may help your prototype become more than just a prototype. Teflon® could be the make or break advantage point for your newest prototypes. Best of all, Coating Solutions Inc. offers fast turnaround times so that when you need your prototypes made in a hurry, your prototypes will have a quality Teflon® coating but will still be delivered back to you in a timely manner.
At Coating Solutions Inc., we want to make it as simple as possible for you to get the Teflon® coatings that you need. We offer a low minimum lot charge and fast turnaround to customers all across the US, including Toledo, OH. We even have a 24 hour rush delivery available for those that need something immediately. For more information on Teflon® coatings, contact Coating Solutions Inc. today at (651) 762-5700 or send us an email at sales@coatingsolutions.com.