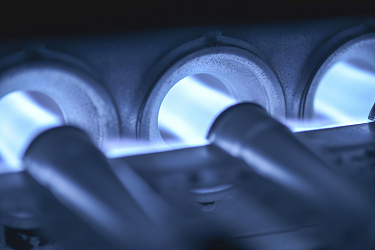 Teflon® is perhaps most widely known for its use in our own kitchens. Teflon® has even become a household name. Its nonstick property keeps food from sticking to your kitchen pots and pans, extending their life and saving you from lots of extra scrubbing. What you may not know is that Teflon® coating is used in many large scale industries all over the country.  Coating Solutions specializes in providing the highest quality Teflon® and other fluoropolymer coating application for many types of equipment used in industries such as aerospace, military, food processing, packaging machinery and many others.  Coating Solutions serves companies in the state of Texas and all over the country.
FDA Approved Coatings With Unique Qualities
In addition to the nonstick quality of Teflon®, the coating offers several additional unique properties that make it useful and helpful to a wide variety of industries around the country:
Nonwetting: low surface energy makes water bead instead of flowing freely making for easier cleanup.
Temperature resistance: keeps temperature of equipment lower and constant.
Abrasion resistance: decrease in friction will benefit the parts in the manner of a longer life span and an improvement in performance.
Chemical resistance: protects item from absorbing chemicals
Corrosion resistance: protects the items that are coated from corrosion and extends its life.
Lubricity: low coefficient of friction allows for many industries to use them as a dry lubricant.
Honest, Reliable And Fast Teflon® Coating Texas
Coating Solutions has been in the coating business since 1995.  As a family owned and operated business, the team understands that customers have choices when it comes to industrial coating application.  In addition to offering professional, high quality coating, Coating Solutions also offers a low minimum lot charge as well as fast turnaround time on each and every job.  This means that you will not pay more if you only need one one piece of equipment coated and that you will receive your professional coated item quickly.  Our normal turnaround time is just 3-5 days but we also offer next day shipping if needed.  We also understand the great importance of providing superior customer service so we will make sure that you know that your job is important to us.
If you are in the Texas area and are looking to partner with an honest company that can be flexible and meet all of your coating needs, take a moment to call Coating Solutions at 651-762-5700 for more information.