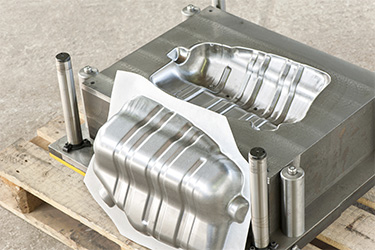 Teflon® and other fluoropolymer coatings help industrial companies operate more smoothly and productively. The properties that these coatings have help businesses function at their highest level and save expenses. Coating Solutions, based in Minnesota, is a Teflon® applicator and offers our Teflon® coating services to industrial companies around the country. We not only produce high quality coatings, but we also have the lowest minimum lot charge in the country and a tremendously fast turnaround with one day rush available. We coat items for businesses of all industries, but most often for those in food processing, packaging, and machine shops and their customers. And due to our low minimum lot charge, we also have numerous prototype developers contact us so that their inventions can operate properly. No matter what reason you need fluoropolymer coatings, contact us and we will get it done quickly, properly, and at a fair price.
Food Processing Coatings
The food processing industry has a tremendous need for Teflon® and other fluoropolymer coatings for machinery parts. Nonstick is primarily what the general public thinks of when Teflon® is mentioned, and this property is what makes it a sought-after coating for those working in food processing. When food processing machinery is coated with FDA-approved Teflon® or another fluoropolymer, food doesn't stick to the parts and production lines run more smoothly and with fewer hang-ups. Also, because the parts are nonstick after they have been coated, they are easier to clean and expenses for labor and extra cleaning chemicals can be saved. And due to the fact that these coatings are resistant to extreme temperatures, they do not wear when exposed to high heat such as baking and steaming processes. Not to mention, these coatings are much less expensive than using machinery parts made from exotic metals. If you need one part or a thousand coated for your food processing machinery, contact us today and we will take care of it.
Packaging Machinery Teflon® Coating Services
For anyone working with packaging machinery, Teflon® coatings can help things run smoothly and efficiently. Thin films and foils don't stick to machinery parts after they have been coated with nonstick and temperature resistant coatings. This in turn helps businesses maximize production. If you have packaging machinery that needs coatings, contact us to get it done.
Coatings for Machine Shops
Machine shops routinely get a hold of us whenever they have customers requesting that newly fabricated parts be coated with a fluoropolymer. Our low minimum lot charge means the savings can be passed on to the customer. And our fast turnaround means they will get the part quickly.
For any Teflon® coating services you require, contact Coating Solutions today. We guarantee you won't be disappointed.