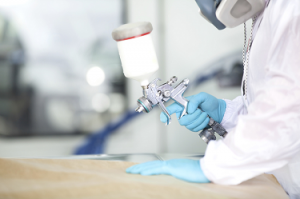 Coating Solutions, Inc., is proud to offer Teflon® coatings for a wide variety of differing industries. No matter what your reasoning for getting your product coated, Coating Solutions, Inc., works diligently to ensure that every Teflon® coating service we perform is done with precision and care. As a family owned company, we treat every customer like they are family of our own. Since 1995, we have been providing a premier coating service for many different companies and industries. If you are looking for quality Teflon® coatings, Coating Solutions, Inc., should always be your first phone call.
Process for Teflon® Coatings
In order to deliver quality and reliable Teflon® coatings to our customers, we have a step-by-step process that ensures your coating will be applied with the utmost precision. From the first step to the last, our professionals here never miss a beat. Here is a quick synopsis of our process for Teflon® coatings:
1. Prebake Substrate: In the first portion of the process, we will prebake substrate. With this, all the oils are removed from the product so that your Teflon® coating will stick properly and evenly.
2. Grit Blasting: This step is basically what it sounds like, we blast all the grit off of the surface! Grit blasting is the process where the substrate is blasted with aluminum oxide. This allows all the rust, scales, corrosion or other past coatings to be removed while also roughening up the area so that it can adhere well to the substrate.
3. Spray on the Teflon® Coating: Yay – it's time to spray! Once the prebake and grit blasting is completed, your Teflon® coating will be evenly sprayed on. We manually spray this to ensure that your coat is perfect and even.
4. Curing the Substrate: In order to assure adhesion and cohesiveness, we utilize the recommendations for Teflon® coatings to cure the substrate. Some temperatures can reach as much as 800°F.
5. Inspected for Defects: At this point, we go a step further in our Teflon® coating process. Every job we do is inspected thoroughly for defects during our quality control step. We want to ensure 100% satisfaction to everyone using our services.
6. On Time Delivery: Now that we know your product is perfect, our team of professionals will quickly pack and ship your product back to you so you can get to work! Coating Solutions, Inc., prides itself on having the fastest turnaround times in the country – approximately 3 to 5 days and even next day delivery if needed.
Ready to utilize our Teflon® coating services yet? For more information about Coating Solutions, Inc., and our Teflon® coating process, give us a call today at (888) 390-803