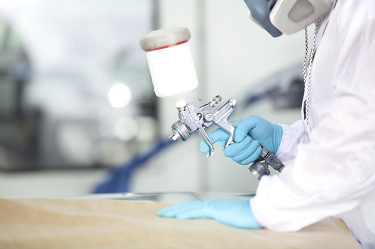 There is literally no limit to the number of functions that Teflon® Coating offers.  We are all more than aware of how useful Teflon® is in the kitchen — keeping our food from sticking to pots and pans.  And, the same unique qualities of Teflon® coating that make our kitchens more functional also make this FDA approved coating ideal for use in industries like food processing, packaging machinery, aerospace, the military, automotive and the chemical industry.  Coating Solutions specializes in the application of Chemours® Teflon® and fluoropolymer industrial coatings for those in the New York area as well as nationally.
Qualities & Usefulness of Fluoropolymer Coatings:
Nonstick: Perhaps the most widely known quality of Teflon®, it's the low release characteristic make it useful for coating equipment in the commercial food processing industry as well as packaging machinery, aerospace industry and the paper industry.
Nonwetting:  Teflon® and fluoropolymer industrial coatings are oleophobic and hydrophobic, meaning that their low surface energy makes water bead instead of spreading freely across the area of the coating. This translates to easier cleanup and is often used by the military and aerospace industries.
Temperature resistance:  Teflon® is also temperature resistant, meaning that the temperature of the item it is coating stays stable, which can be useful in the food processing industry as well as in offices, and in the lighting and packaging industries.
Abrasion resistance:  Fluoropolymer coating reduces friction created by the parts and reduces metal on metal rubbing.  This can increase the lifespan of the product and increase overall performance.
Chemical resistance:  Teflon® is resistant to nearly all chemicals.  This protection is important and used widely by many industries including the pharmaceutical and semiconductor industries.
Corrosion resistance:  The protective coating of Teflon® reduces the risk that the coated product will be damaged or susceptible to corrosion over time.
Lubricity:  Teflon® and Fluoropolymer coatings also offer a low coefficient of friction meaning that it can be used a dry lubricant.
Expert Teflon® Coating NY
Coating Solutions understands that you can partner with companies to meet your coating needs. However, they set themselves apart from other competitors by offering a low minimum lot charge and fast turnaround, so that you can get your equipment coated as fast as possible, on your terms. Whether you need one piece of equipment coated or a whole fleet, our team can help.  Coating Solutions has specialized in applying Teflon® and fluoropolymer industrial coatings since 1995, and our team would love to speak with you about how we can meet your needs. Call us at (651) 762-5700 for more information.