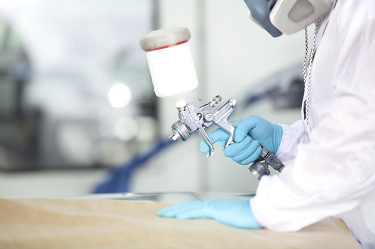 Coating Solutions, Inc. uses Teflon® coating in a wide variety of industries all over the country.  While there is no limit to the items that can be coated, some of the most common uses are in the chemical processing, food processing, aerospace and manufacturing industries. Teflon® coating can give equipment its nonstick property so that it can function properly, and it also allows for smooth and constant production of the product, so that you do not have to stop the production process periodically in order to apply a wet lubricant.  The bottom line is that Teflon® coating can help your company save money, improve efficiency and your bottom line.  Additionally, we serve Indianapolis, IN and have been providing fluoropolymer coatings since 1995, featuring a fast turnaround time and and a low minimum lot charge that is one of the lowest in the industry.
Useful Properties Of Teflon® Coating Indianapolis
Teflon® Coating has many properties that make it both useful and necessary in many industries.  These useful properties include:
Nonstick:  We all know how important the non-stick property is for our cooking, the non stick feature is also critical for those in the commercial food processing industry, as well as for engine molds in the aerospace industry.
Non-wetting: Another feature of Teflon® is that it makes water bead instead of allowing it to spread freely across the area of the coating.  This translates to easy cleanup and benefits many industries including the military and aerospace.
Temperature resistance:  The ability to regulate temperature is useful in the cooking industry as well as in the lighting and packaging industries.
Abrasion resistance: This decrease in friction provided by Teflon® coating helps products extend their lifespan and provides stronger performance over time as well.  Abrasion resistance also makes the parts that are coated easier to clean.
Chemical resistance:  Products coated with Teflon® or Fluoropolymers are resistant to all chemicals, which is particularly useful for the chemical processing, pharmaceutical, and semiconductor industries.
Corrosion resistance:  Teflon® coating also provides a protective layer on the product where it is applied to decrease risk of corrosion or other damage.
Lubricity:  Teflon® coating has a self lubricating property, which means that you will likely not have to use another lubricant on the product that has been coated.
Fast Turnaround Time And Low Minimum Lot Charge
Coating Solutions, Inc. provides Indianapolis companies with any and all of their Teflon® and fluoropolymer coating needs. We are a Midwest company with more than 20 years of experience. In addition to providing high quality service, our team understands that you need fast response time and low prices. Our ultimate goal is to make you a success. Call 651-762-5700 for more information, or to speak with our customer service team.