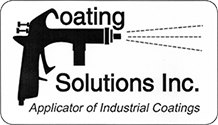 If you're looking for a Minnesota Teflon© coating company that can serve your needs, you've come to the right place. Whether you're looking for Teflon© coating for food processing, packaging, machinery, or otherwise, the Teflon© experts at Coating Solutions, Inc. can help you choose the best coating for you. Based on your specific needs, from chemical resistance to abrasion resistance, nonwetting to high temperature resistance, a Teflon© coating company should be able to give you exactly the coating product you need every time – along with all of the information you need to make the best, most informed decision possible.
Teflon© PTFE Coating
The most heat-resistant Teflon© coating we have with a low-friction coefficient. This coating can be used as an electrical insulator, is nonwetting, and is resistant to numerous chemicals. This Teflon© coating is typically used in commercial bakeware and food processing, laundry, footwear, lighting, packaging, and office automation.
Teflon© FEP Coating
Offers great release, is non-porous, and is more resistant to chemicals than most Teflon© coatings, though it is less resistant to heat than other coatings. This is the perfect coating for chemical processing, food processing, packaging, footwear and textiles.
Teflon© PFA Coating
Chemical-resistant, heat-resistant, and non-porous coating that can be made very thick. This coating is often used for chemical processing, molds, copiers and laundry dryers
Teflon© S Coating
Offers great abrasion and heat resistance and boasts nonstick and low-friction properties that are useful in the automotive, hardware, packaging, and lawn and garden industries.
Specialty Systems Teflon© Coating
Combination of Teflon© PTFE, PFA and FEP coatings that makes for a long lifespan for release, great resistance to abrasion, chemicals, corrosion, and heat – perfect for a wide range of industries and uses.
Xylan© Coating
This hard, durable coating is resistant to abrasion and permeation, and offers long-lasting release, making it ideal for thermoforming, packaging, and commercial bakeware and food processing.
Teflon© Coating Uses
Nonstick Teflon© Coating: Great for food processing, the packing industry, the aerospace industry, the paper industry, and several others.
Nonwetting Teflon© Coating: Keep water from seeping into any surface so that it can be easily removed.
Temperature-Resistant Teflon© Coating
Low-Friction Teflon© Coating: Teflon© coating can reduce friction by acting as a dry lubricant for automobiles, houseware, hardware, production plants, and more.
Chemical-Resistant Teflon© Coating
Teflon© Coating for Electrical Use: Teflon© coatings for electrical use should have a high dielectric strength or a low dielectric constant and loss. Find out which coating you need!Abrasion-Resistant Teflon© Coating
If you're looking for a MN Teflon© coating company you can trust to provide you with the best product for your needs, contact the Teflon© coating professionals at Coating Solutions Inc. today at 651-762-5700, and find out which coating product has the properties you're looking for.