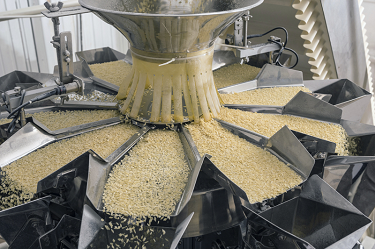 Industrial Teflon® and other fluoropolymer coatings can help companies operate more efficiently and productively. These coatings can be used for a wide range of purposes in a wide range of industries, from abrasion resistance to lubricity, the energy industry, aerospace, chemical processing, and more. Coating Solutions has been in the industrial Teflon® business for more than 20 years, and we provide high quality coatings to customers around California and the country. Not only do we have high quality coatings, but we also have the lowest minimum lot charge in the industry and a very fast turnaround with one day rush available. So if you need reliable Teflon® coatings so that your operation can work more efficiently, give us a call today and let's get started.
Food Processing Teflon® Coating CA
Food processing companies can definitely use FDA approved coatings. Teflon® and other fluoropolymer coatings act as nonstick coatings and temperature resistant coatings for food processing companies. This ensures that food moves easily down production lines, slides out of molds, and therefore wastes less, produces a more uniformed product, and keeps things moving smoothly. Also, because these coatings are temperature resistant, they won't wear away when exposed to high heat during cooking processes. If FDA approved coatings are what you need to work better, contact us today.
Coatings for Automotive Manufacturing
Automotive manufacturing can benefit from machinery parts that are covered with a fluoropolymer coating such as Teflon®. These abrasion resistant coatings and chemical resistant coatings can help machinery parts produce more while also being protected. This can help to save many companies expenses related to replacement parts. Just let us know what you need and how the parts will be used and we'll get to work.
Coatings for Machine Shops California
Many machine shops contact us when they need a part coated with Teflon® or another fluoropolymer, or when a customer has requested that a newly fabricated part be coated. Because we have the lowest minimum lot charge in the industry, machine shops know they can send us a single part for coating and that they will get a fair price. This either benefits them or the savings can be passed onto their customers, pleasing them as well. Contact us to get started.
Coating Solutions is located in the Twin Cities and we have been providing industrial Teflon® and other fluoropolymer coatings to customers around the country, including California, for more than 20 years. Our high quality, low minimum lot charge, and fast turnaround will ensure that you get exactly what you're looking for. We can handle anything you need so that you can work better, so give us a call and we'll take it from there.