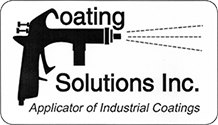 There are so many ways that industrial companies can use Teflon®. The food processing and packaging companies in Buffalo, NY are great examples of industries that really benefit from Teflon®. Light industry products can also be greatly benefited by Teflon® coatings, both in production and as an end product. At Coating Solutions, Inc., we recognize the importance of proper coating and the major benefits that Teflon® can bring. This is why many industrial companies in Buffalo, NY have started sending business our way. We offer a low minimum lot charge, fast turnaround times, and quality like no other coating company around.
Food Processing and Packaging Industry
Much of the food processing industry is considered light manufacturing. Why? Well the end product is going directly out to the consumer. This is why it is extremely important to have all of your machinery that makes the product coated with the ever versatile Teflon®. This nonstick, nonwetting, temperature resistant, and corrosion resistant product also has FDA approved coatings. It is the perfect coat for any food processing industry. Likewise, packaging machinery is known for being hard to work with. It has to resist heat and chemicals. Teflon® is abrasion resistant, chemical resistant, and is self lubricating, meaning that it doesn't need any type of moisture to keep it going. The fact that packaging companies can rely on it's nonstick and nonwetting feature makes it the number one choice for so many.
Other Light Manufacturing Products
While the light industry is less money driven than the heavy industry, we can appreciate that most of its products are going directly to consumers and should be taken into a high regard. Everything you are making or selling is important and should be taken in with great consideration. This is why we offer a low minimum lot charge and a fast turnaround time for all of our customers at Coating Solutions, Inc. We want every industry to be successful and hold value that is unwavering.
It's time you learn how Teflon® can change your product and the way you manufacture it in a positive way. For more information about Teflon® coatings and what sets Coating Solutions, Inc., apart from the rest, give us a call today. Our turnaround times vary anywhere from 3-5 days, even in Buffalo, NY, but if needed, we do offer a 24 hour rush service. So what are you waiting for? Give us a call today at (651) 762-5700.