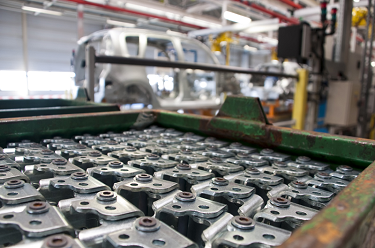 If you work in the food processing, packaging machinery, or machine shop industry, you likely already know about the many benefits of Teflon® coating applications, including non-stick properties, non-wetting properties, temperature resistance, low coefficient of friction and chemical resistance. What you may not know is that Coating Solutions is a family owned business that specializes in the application of Teflon® industrial coating. We understand that you have many choices when it comes to a fluoropolymer coating company, so we work hard to set ourselves apart in the following ways:
Fastest possible shipping and low minimum lot charges: Coating Solutions understands that you and your business cannot afford to halt production for an extended period of time in order to get your equipment coated. So we work as hard as possible to minimize the time that your equipment is with us. Generally, our turnaround time for coating application is 3-5 days and we even offer one day rush shipping to get your parts back as soon as possible. In addition, we offer the lowest minimum lot charge in the coating industry, which means we charge the same to coat one piece of equipment or 100, so we do not charge you more for only coating a few of your parts of pieces of equipment.
High quality coating application: We follow a specific process for each and every one of our coating jobs, no matter what coating is being used. This attention to quality control ensures that the coating will function correctly, and that our customers will be satisfied. The step by step process includes prebaking the substrate, grit blasting, curing the substrate, quality control inspection, packaging and shipping.
Responsive customer service team: We are an American, family owned business that has been coating parts and equipment since 1995. We have stayed in business because we have built a reputation for superior customer service. We answer our phones, make ourselves available after hours, answer questions about the different coatings we use, and can help you determine the best type of coating for your purpose. We treat all of our customers honestly and fairly.
Honest and Trusted Coating Family Owned Application Company
Coating Solutions works with companies all over the country and is headquartered in downtown St. Paul, Minnesota. We will coat the items that you need coated and treat you like a partner – like family. For more information about our Teflon® Coating applications, call us at 651-762-5700.