Specialty Systems Coatings | MN Coating Specialists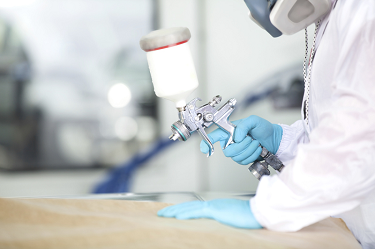 Coating Solutions is a local Minnesota company that specializes in applying a wide variety of Chemours® Teflon coating parts and equipment used in all types of industries. Our MN coating specialists work with many different companies in the food processing industry all over the country. Teflon coating can be used on equipment such as waffle irons, bread pans, mixers, beaters, hoppers, and dough rollers to keep sticky and wet substances like flour and sugar from sticking, making it very difficult to clean. Teflon coating also extends the life of these items, allowing them to stay in production for longer, saving your company money.
Benefits of Specialty Systems Coatings for the Food Industry
One of the most frequently used Teflon coating types is called Specialty Systems Coating. This type of Teflon coating is ideal for the food processing industry and has become a very popular option. Chemours® created this blend of PFTE, PFA, and FEP to offer the best possible nonstick property. It is fully compliant with all FDA regulations related to food contact, so you can be confident that if you decide to use this coating on your parts and equipment, your customers will be safe and your job will be easier. This specialty blend also has excellent release, abrasion resistance, cut and dialectic resistance as well as very good chemical resistance. This Specialty Systems Coating allows your equipment to withstand temperatures of up to 550°F for continuous use.
Experienced MN Coating Application Company
Coating Solutions is appreciative of each and every coating application job that comes to us, so we work hard to make sure that our customers are treated right. This means that we always get equipment coated and shipped back quickly and we offer the lowest minimum lot charge in the industry, meaning that we charge the same amount to coat 1 item or 100 items. We have a careful multi-step coating process and build in time for an experienced member of our team to inspect the item to be sure that quality is high. We stand behind our work guarantee customer satisfaction.
Our team can also answer any questions that you have about Specialty Systems Coating or any other type of Teflon coating. We can help you determine the best possible coating for your equipment and explain exactly what you can expect in terms of benefits and long term performance. Our MN coating specialists are ready to take your call: 651-762-5700.