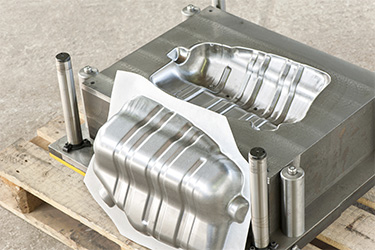 Some Teflon® coating companies are one-size-fits-all, and they don't take into account businesses and individuals who need just a part or two coated. This can be really annoying and a drain on expenses for smaller industrial companies, prototype developers, machine shops, and anyone else who has the need for Teflon® coated parts. Coating Solutions, a Teflon® and fluoropolymer applicator, provides coatings for large and smaller customers alike, from just a single part to thousands of parts, and everything in between. At Coating Solutions, we gladly welcome all lot sizes. And the reason that so many customers come to us for their small batch coating needs is that we have the lowest minimum lot charge in the industry. Also, we have an extremely fast turnaround with one day rush available, so you can be certain that you'll get your parts back quickly and return to work. So if you need a Teflon® coating company, especially one who gladly handles small batches, contact Coating Solutions today. You'll be glad you did.
Teflon® Coatings for Machine Shops
When a machine shop has a customer who requests that newly made parts are coated with Teflon® or another fluoropolymer, the machine shop calls Coating Solutions. And they do this for two reasons. The machine shop knows that we will have the part done quickly so that it can be delivered to the customer. And because of our low minimum lot charge, those savings can be passed onto the customer, turning them into a repeat customer for the machine shop. It's a win-win for everyone. That's why machine shops call us daily for their customers' requests.
Small Batch Teflon® Coatings for Prototype Developers
If you are a prototype developer, there's a good chance you're working on a fairly thin margin. And that's why we have the lowest minimum lot charge in the industry. If you need just a single part the size of a pencil coated, we won't treat you like a Fortune 500 company. We will give you a reasonable price and work with you to determine which coating will be best for the part. And because we have worked with many prototype developers over the years, we understand you might be a little leery to tell us how it will be used. So the more information you can give us for what you need, the fewer questions we'll ask. Just contact us today and get the process started. And because of our fast turnaround, you know you'll have the part back quickly so you can test it out.
Professional Teflon® Coaters
At Coating Solutions, we have been applying Teflon® and other fluoropolymer coatings since 1995. We are a family owned and operated company and we understand that people don't have time to waste on subpar coatings or to be sitting around for their parts to return. And that's why we always provide high quality coatings along with fast turnaround and the lowest minimum lot charge in the industry. So whatever coating needs you have, contact us today and we will take care of it.