Rapid Industrial Coating Solutions In Minneapolis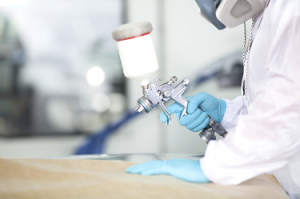 As an industrial company, you likely have several options for subcontractors when it comes to the application of industrial coatings. Without a doubt, most of these coating application companies offer a wide variety of high-quality fluoropolymers and follow a careful process to minimize mistakes. Amidst pandemic difficulties, profit margins are tighter than ever, and many industrial businesses simply cannot afford to shut down production lines to get parts and equipment coated. When it comes to keeping the production lines rolling and the overall effect on your bottom dollar, fast turnaround of coating application and low minimum lots are incredibly important.
High Quality Fast Turnaround Service
When you need a coating application service, it's important to know that who you choose will get the job done fast while not compromising quality workmanship. The team at Coating Solutions is fully committed to offering 100% satisfaction on a high-quality application, with the fastest turnaround time possible. Our company has developed a standard, efficient and effective process for coating application and can turn most projects around in two-to-three days. For smaller lots, or where time is of the essence, a one-day turnaround is possible. This ensures your production lines are back in service as soon as possible.
Low Minimum Lots
Many coating application companies will only consider contracting business when you provide a high quantity of products to be coated. So, what if you have lower quantities of parts needing coating? The team at Coating Solutions is committed to providing solutions for as many businesses as possible. We are a small, family-owned business that understands you cannot afford to spend a fortune on the process. We offer competitive pricing and the lowest minimum lot charge in the business. Having low minimum lot charges allows companies, regardless of need size, to utilize our services and gain momentum for future coatings.
One-Stop Coating Application Headquarters
Coating Solutions is a small business that specializes in industrial coating application. We know a lot about the products we use and can help you determine what will work best for you and provide you with the best outcome at the best value. A family-owned business with a vested interest in your success, Coating Solutions has been providing fluoropolymer coatings since 1995. What makes us unique is that not only will we treat you like family, but we are family. Started by two sisters, Dawn and Kim, Coating Solutions, is your go-to resource for all Teflon® and fluoropolymer coating needs. Request a quote online or call us today at (651) 762-5700.