Quality Coating Application Company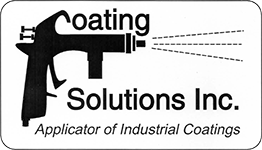 If you are interested in applying coating to your equipment and machinery with Chemours® Teflon® and fluoropolymer industrial coatings, you likely know about the many benefits of the process. Chemours® Teflon® and fluoropolymer industrial coatings add nonstick, nonwetting properties and can improve temperature stability, are abrasion resistant, and make your equipment resistant to all chemicals. If you are going to go to the trouble to take your equipment out of the production line for any amount of time, you want to be sure that the coating application company that you partner with provides you with a high quality product. Coating Solutions makes this promise to each and every one of our customers.
High Quality Fluoropolymer Coating Application Process
The team at Coating Solutions is a family owned small business that has been providing high quality coating application since 1995. We follow a thorough and consistent step by step process so that you can be confident that the final product meets the highest possible quality standards. We inspect the items during each step of the process so that we can make any necessary adjustments. Our process includes the following six important steps:
Prebaking the substrate
Grit blasting the substrate with aluminum oxide
Manually spraying the requested fluoropolymer on the item for a perfect coat
Cure the substrate based on the unique specifications of the fluoropolymer that was used
Inspection for any potential problems or defects
Package and ship product back to you quickly.
Customer Service Oriented Coating Company
We also understand that you cannot afford to stop production for an extended period of time, even if you need equipment coated. So, in addition to the detailed process we follow that yields high quality coating application, we also offer fast shipping and the lowest minimum lot charge in the business. We want your experience with Coating Solutions to be positive from start to finish so we will get your equipment back to you quickly so that you can minimize any lost time. A normal coating application job takes 3-5 days and we even offer rush (one day shipping) if needed. And you will not pay more to have just a few items coated – you will pay the same price if you need 1 item coated or 100.
For more information about our high quality coating application process, contact our team at Coating Solutions at (651) 762-5700. We will answer your call quickly and answer any questions that you might have. We can even provide advice about the best fluoropolymer coating to use for your specific piece(s) of equipment.