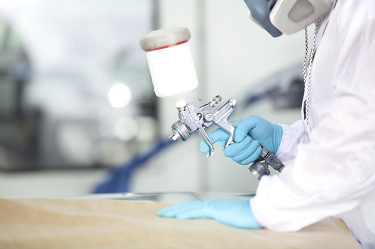 Industrial Teflon® and other fluoropolymer coatings help businesses working in a wide range of industries. Companies need these coatings for all sorts of uses, and that's what makes beneficial so many industries. Coating Solutions is based in the Twin Cities, and we have been working with industrial Teflon® and other fluoropolymers for companies around the Midwest and the country for more than 20 years. Two things make us stand out from the rest, but before that, we obviously produce high quality coatings. The two that make us stand out, though, are simple: we have the lowest minimum lot charge in the industry and a tremendously fast turnaround with one day rush available. So no matter why you need Teflon® coatings, whether for dry lubricant purposes or nonwetting, abrasion resistant or something else, when you contact us, you can be sure you will be getting affordable coatings quickly. And isn't that what every business is after? If this sounds good to you, give us a call today and we guarantee you'll be pleased with the results.
Food Processing PTFE PFA Teflon® Coatings Kansas
Companies working in the food processing industry have many needs for PTFE and PFA Teflon®. FDA approved nonstick coatings help every food processing company maximize their production while eliminating waste. These coatings help businesses to operate more efficiently as food will slide smoothly down production lines. And because machinery parts are easier to clean after they have been covered with these coatings, expenses related to labor and cleaning chemicals can be saved. Also, these coatings are temperature resistant, which means they won't wear away when exposed to high heat during cooking processes. Give us a call today if you need reliable coatings for your food processing operation.
Automotive Coatings KS
Businesses working with automotive parts have great need for Teflon® and other fluoropolymer coatings. Abrasion and chemical resistance can be gained when machinery parts are covered with these coatings. And self-lubricating can be gained as well. This helps to protect machinery parts that are exposed to metal-on-metal rubbing. If you want dependable coatings for your business, contact us today.
Packaging Machinery Coatings KS
Packaging machinery can benefit greatly when Teflon® and other fluoropolymers are coated on machinery parts. Nonstick helps production move smoothly by eliminating thin foils and films from log jamming machines. And the coatings won't wear away during heat sealing due to the temperature resistance. This makes these coatings very beneficial for packaging machinery.
Coating Solutions has been working with PTFE, PFA and other forms of Teflon® and fluoropolymer coatings for more than 20 years. Prototype developers, food processors, machine shops, the aerospace industry, and more all come to us due to our low minimum lot charge and fast turnaround. Contact us today and we guarantee you'll be pleased with our high quality coatings. They will help you work better.