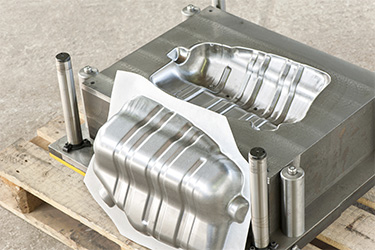 PTFE, PFA, FEP, and other fluoropolymer coatings significantly help industrial businesses with their production capabilities. Whether companies need a low co-efficient of friction, temperature, abrasion, or chemical resistance, or nonwetting, among other things, these coatings can help make that need a reality. Coating Solutions, based in Minnesota but serving industrial companies around the country, has been an applicator of these coatings for more than 20 years. Our high quality coatings come with the lowest minimum lot charge in the industry and an extremely fast turnaround, and this is why businesses around the nation contact us when they need fast and cost-effective coatings so that they can improve production and/or functionality of parts. No matter if you are a prototype developer and need a single part coated, or if you are a Fortune 500 company and need thousands of parts coated, we will get the job done for you. After all, your satisfaction is our number one priority. So contact us today and we will have you operating more smoothly in no time.
Machine Shop and Heavy Equipment Coatings
Oftentimes, machine shops receive requests for new parts to be coated with a fluoropolymer so that the part can withstand whatever it will be exposed to. In these cases, machine shops frequently send the new parts to us because of our low minimum lot charge and fast turnaround. Furthermore, heavy industrial equipment needs fluoropolymer coatings so that the equipment can last for years. At Coating Solutions, we will coat small parts the size of screws or parts as large as trucks. Whatever you need, we will take care of it.
Chemical Resistant Coatings
Teflon® coatings are resistant to almost all known chemicals. This greatly helps the parts that are covered with these coatings last much longer than when the part are not covered. If your machinery parts are routinely exposed to harmful and destructive chemicals, considering having them covered with Teflon® or another fluoropolymer.
Food Processing PTFE PFA FEP Teflon® Coatings Peoria
The food processing industry benefits immensely when machinery parts are coated with Teflon® or another fluoropolymer. The nonstick and temperature resistance of these coatings allow food processing machinery to operate smoothly without food clogging up production lines. And these coatings are much less expensive than using machinery parts made from exotic metals. So if you need fluoropolymer coatings for your food processing machinery, contact Coating Solutions today.
Coating Solutions has been applying fluoropolymer coatings to industrial machinery parts for more than 20 years. Our high quality coatings coupled with our low minimum lot charge and fast turnaround make us the first choice for numerous companies seeking Teflon® coatings. Get a hold of us today for coatings you can really depend on.