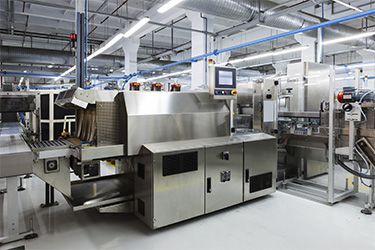 Are you looking for PTFE or other fluoropolymer coatings for the machinery parts for your industrial company? If so, then look no further. Coating Solutions is an industrial applicator of PTFE Teflon® and other fluoropolymer coatings and serves Aberdeen, SD and the surrounding area. We may be based in the Twin Cities, but we provide industrial coatings to companies around the Midwest due to the fact that we have the lowest minimum lot charge in the industry and a very fast turnaround with one day rush available. If you need your machinery parts to be nonstick or chemical resistant, temperature resistant or have unique electrical properties, we will take care of it for you. Contact us today and we will coat your parts and have them operating at maximum efficiency in no time.
Packaging Machinery Coatings
Packaging machinery parts can benefit greatly from PTFE and other fluoropolymer coatings. Because these coatings are nonstick, very thin plastics and foils won't stick to the pat as the products run through production lines. This helps keep things from jamming up and causing slow-downs in production. Also, because these coatings are temperature resistant, they won't wear off during heat sealing. Additionally, the coatings are resistant to abrasions, so they will protect machinery parts that are exposed to constant use. This all means the coatings will last longer and companies will get the most bang for their buck. So if you need fluoropolymer coatings to help your machinery parts function properly, contact us today and we will take care of it for you.
Machine Shop PTFE Coatings Aberdeen SD
We frequently get calls from machine shops that receive requests for newly fabricated parts to be coated with a fluoropolymer. Machine shops contact us when they get requests like this because our low minimum lot charge and fast turnaround means the cost and time savings can be passed on to their customers. Also, our high quality coatings protect the new parts and allow them to function to the best of their intended uses. And whenever machine shops need fluoropolymer coatings for their own uses, they contact us as well.
Prototype Fluoropolymer Coatings
Prototype developers often are looking for ways to make their inventions operate the way they are intended to. And frequently they turn to fluoropolymer coatings when they need nonstick, chemical or abrasion resistance, nonwetting, or other purposes. Due to our low minimum lot charge, prototype developers often contact us when looking for solutions to their inventions. If this is what you're looking for to make your invention operate properly, contact us today.
Coating Solutions has been an applicator of PTFE Teflon® and other fluoropolymer coatings for more than 20 years. Our high quality, low minimum lot charge, and fast turnaround has kept customers coming back ever since we opened our doors. So contact us today and we will provide you with functional coatings so you can maximize production and efficiency.