Protecting Your Business' Parts And Equipment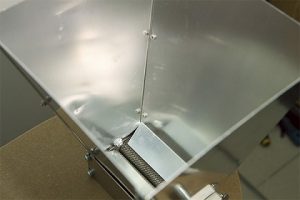 If you own or manage a business, you understand just how big of an investment it is. Time, money and energy are just a few of the important parts of this investment. When it comes to expenses, you are always looking for smart ways to save money and extend the life of your equipment so that you can keep costs down without compromising quality or service. Taking care of the parts and equipment that you use on a daily basis is one way to reduce the frequency of buying replacements.
Chemours® Teflon® and Fluoropolymer Industrial Coating Application
Each and every piece of equipment is critical to your success, and your business simply cannot afford to be without it functioning for any significant length of time. Fortunately, this is where our team at Coating Solutions comes in. Our company applies Chemours® Teflon® and fluoropolymer industrial coatings to all types of machinery, parts and equipment. Chemours® Teflon® and fluoropolymer industrial coating has many unique properties including adding a nonstick and nonwetting coating, improving temperature and chemical resistance, and making it abrasion resistant. All of these qualities help protect your parts and equipment, extend the life of the parts and improve the ease of cleaning. All of this adds up to only positive results for your business.
In a year when nothing has seemed easy, deciding to hire a company to apply Chemours® Teflon® and fluoropolymer industrial coating for your equipment is an easy decision to make. We make the process easy as well. Our prices are competitive, and we ship quickly because we know that you want to get your production back up and running fast. We can even send via rush shipping and have it back in your hands in about 24 hours. In addition, we understand that each company we work with has unique needs. So, we do not charge a different rate depending on the number of items you need coated. We charge you the same price to coat one item or one hundred.
Advantages Of Coating Your Parts And Equipment
So, as your company gets back on its feet after the last unpredictable year, consider how you can make small investments and small changes to improve your efficiency. Protecting your parts and equipment now will save you money and time down the road. For more information about our Chemours® Teflon® and fluoropolymer industrial coating application services, call our team at Coating Solutions at 651-762-5700.