Professional Fluoropolymer Coaters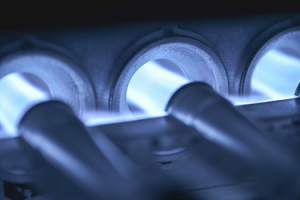 Coating Solutions, Inc., is proud to call themselves professional fluoropolymer coaters. For almost 25 years, we have been a leader in professional fluoropolymer coaters and an innovator for new ways to serve our customers. We are constantly working on the best possible method to provide our customers with fast turnaround times, low minimum lot charges, and quality that surpasses any standard in the professional coating industry.
As professional fluoropolymer coaters, our business depends on providing our customers with quality coatings that will keep their own business thriving. For these reasons among many others, we take pride in the quality work we perform and never compromise under any circumstances. To ensure our quality is never compromised, our professional fluoropolymer coaters methodically complete the process as follows:
1. First, we prebake the substrate. This removes any oils or debris from the product so that the coating will be able to stick.
2. Our next step is to take our substrate and grit blast it with aluminum oxide. Our mission here is to remove the scales, corrosion, rust and any previous coatings that may have been present.
3. We will then begin to spray on your fluoropolymer. We choose to do this manually so that we can ensure the perfect, desired coating every time.
4. Once the substrate is sprayed, we will enter the curing phase. Depending on your desired fluoropolymer coating, the type of curing has its own specifications.
5. Once the curing process is complete, we will inspect for defects. We want to ensure that our customers are going to be 100% satisfied with our product.
6. Lastly, we carefully package your items back up and ship it back to you so that you can get back to the work you are doing.
Quality Always Is Top Priority
At Coating Solutions, Inc., quality is always our first priority. It is with this mindset that we have been able to flourish since opening in 1995 and have provided our served industries with even more benefits. Advantages like "one day rush shipping" are an option, not because we are rushing, but because we have the ability to provide quality coatings in an efficient manner.
If you are looking for professional fluoropolymer coatings for your company, consider Coating Solutions, Inc. For more information about our coating services and the ways that we can help you, give us a call today at 651-762-5700 or feel free to send us an email at sales@coatingsolutions.com.