Non-Stick Commercial Teflon Coatings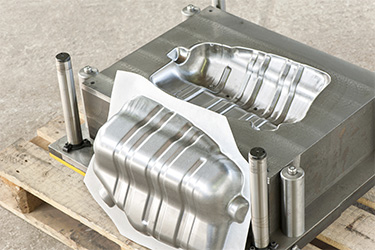 Within every commercial industry, the ease of production is essential. Whether you are processing commercial foods or producing commercial grade cookware, there is one thing that should always be a priority. You need a quality, non-stick commercial coating. At Coating Solutions, Inc., we deliver just that. We are committed to producing non-stick commercial coating that is applied with quality, no matter what industry you are in. If you are looking for non-stick commercial coatings, look no further.
Chemours® Teflon® Non-Stick Coating
At Coating Solutions, Inc., we are proud to offer Chemours® Teflon® as an option for our customers seeking non-stick commercial coatings. Many choose this type of coating because of its amazing non-adhesive properties. This especially rings true in the food industry. Whether you are mass producing food with commercial equipment or you are physically producing the commercial tools and equipment, having a coating that protects your product is extremely important. From the food processing perspective, it is incredibly easy for food to gunk up your large, commercial equipment and leave you in a frenzy. Having that non-stick coating allows the food to easily glide through your machinery and continue on down the assembly line. The same can be said for producing commercial equipment. Non-stick coatings allow for easy clean up and smooth transitions from one activity to another. It is an essential part of any commercial industry and should always be taken into consideration.
Choosing Your Coating Partners
While non-stick commercial coatings are advertised everywhere, it's important to find a company that knows how to apply it well. SInce 1995, Coating Solutions, Inc., has been applying Chemours® Teflon® coatings for commercial purposes. For over 20 years, we have been committed to our customers and the delivery of quality, non-stick commercial coatings. No matter where your company is located, we can still provide you with fast turnaround times. We even have the option of placing a 24 hour rush on your order. We are known for delivering high quality products and services at an affordable price. We also offer the lowest minimum lot charge in the industry. If you are in need of non-stick commercial coatings, Coating Solutions, Inc., should be the only place you look.
For more information on non-stick commercial coatings and how our team of professionals at Coating Solutions, Inc., can help you, contact us today at (651) 762-5700 or send us an email at sales@coatingsolutions.com.