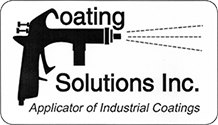 Are you looking for a Teflon® Coating company near you? Coating Solutions is located in Minnesota and is here to provide you with great customer service and do a great job. So why would you work with us? As we know, a lot of our customers produce good work, otherwise they wouldn't still be in business. What sets us apart from other Minnesota Teflon® coating companies is that we produce great work, and produce work fast. We turnaround our projects between 3-5 days. If necessary we can even get your work done in 1 hour! That is unheard of elsewhere. We also have the lowest minimum lot charge in the industry. When you work with us you know not only that you will get great work done, but that your work will get done in a timely fashion.
Being a family-owned and operated company we also are aware of the importance of relationships and providing great customer service. We know that we are in business because of our great clients and want to keep them happy every step of the way. We live in a busy world, and life seems to keep getting more expensive that is why we understand that our customers will not put up with shoddy work, and don't have time to wait for weeks to get a job done, that is why we make sure all of our work is done fast well, and for a fair price, Coating Solutions is your number one choice.
When you are looking for Chemours® Teflon® coating types, we are the company for you. We have a variety of different options to choose from so that you can receive the best product for you. The most important thing to keep in mind when selecting the ideal coating for your product is the cure temperature. The process requires curing to adequately adhere. We are well informed and will make sure that the coating type you choose will work for you. Materials that can withstand the required cure temperature may have Teflon® coatings applied to them
Our Teflon® products we offer are: Teflon® PTFE, Teflon® FEP, Teflon® PFA, Teflon® S Specialty Systems and Xylan® XLR. If you need an item coated with a product not mentioned above, please contact us anyway, as we have done specialty orders in the past and can do so again.