Laundry Uses for Fluoropolymer Coatings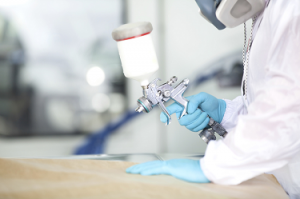 Teflon® and fluoropolymer industrial coating adds functionality and efficiency to many different types of equipment and parts. The laundry industry can benefit greatly from fluoropolymer coating. Laundromats rely on their industrial size washers and dryers to perform well so that they can serve as many customers as possible. When you coat dryer baskets with fluoropolymer coating, clothes dry faster and do not stick to the side of the machines. This can extend the life of the dryer and make using the machines more efficient.
Benefits of Fluoropolymer Coating for the Laundry Industry
Coating Solutions specializes in fluoropolymer coating application for many industries, including the laundry industry. We are a small business and understand that you may be concerned about your dryers being out of commission for even a short period of time. We offer the fastest turnaround time in the industry. We can very often coat dryers in as little as three to five days and we also offer rush shipping so that you can minimize the time that you are without the dryers that you need. The increased efficiency of your dryers once coated will more than make up for these few days. We also offer a low minimum lot charge so you will not pay more to have just a few dryers coated.
Coating Solutions has been applying Teflon® and fluoropolymer industrial coating for more than twenty years. We pride ourselves on being flexible, reliable, trustworthy, working with our customers to meet their unique needs and offering high quality work at affordable prices. We are a family owned business that thrives from repeat customers and new customers based on customer recommendations. When you reach out to us, you will quickly learn that we treat you like family.  We can help you determine the best type of coating for your specific equipment and we will explain the entire process to you up front, from start to finish.
Reliable Family Owned Coating Application Company
If you are the owner of a laundromat and are looking for a way to increase the overall efficiency of your dryers and ensure that they last as long as possible, consider having your dryer baskets coated with fluoropolymer coating by the team at Coating Solutions. We would love to speak with you about the best way to get this done for you.  Call us today at 651-762-5700 for more information or to receive a free quote.