Industrial Non Stick Coating Applications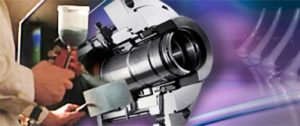 Highly versatile non-stick coatings can be used across a wide range of industrial applications. Anything from bake ware to automotive parts can be improved with the right type of metal coating product and installation technique. Industrial coating services from Coating Solutions, Inc. include the application of anti-stick metal coatings that provide excellent performance and reliability. Coating products made by top manufacturers like Chemours® Teflon® and Whitford Xylan® are expertly applied at a low cost and very fast turn around time. Some of the numerous industries served at our Minnesota location include machine shops, food processing industries and many, many more.
Very Fast Turn Around Time
When you want something done right you go to a respected expert in the field. When you want something done right and fast you go to a company with an excellent reputation for product quality, service, impeccable workmanship and a very fast turnaround time. You want Coating Solutions, Inc. with projected turnaround times of in 3 to 5 days and as little as 1 day in some cases.
Industries Served With Nonstick Coatings
The type of non stick coating that is best for each individual application depends on several different factors. For instance, if you are planning to use the component in the food processing industry then you want something that is food safe and approved for that purpose. Fasteners used in the petrochemical industry need a coating that is chemical resistant. These are just a couple of the factors that go into deciding which type of nonstick coating is best for each component.
Industries Served With Nonstick Coatings
• Food Processing Industry
o Food safe
o Bread pans, blades, waffle makers, mixers, dough rollers, hoppers, food molds, non-stick containers
o Resistant to hot and cold temperatures, safe for oils and fats
• Packaging Machinery Parts
o Heat and abrasion resistant
o Heat sealing blades, shrink wrap machines, metal plates, conveyors, cutting blades, bagging machines, heat seal blister packs, fill tubes
• Machine Shops
o Nonwetting properties, corrosion resistant, chemical and heat resistant, low friction, mold release, noise reduction
o Fasteners, molds, die casting, screw machine parts, welding, stamping, tooling
• Automotive Industry
o Wear resistant, anti-stick, low friction, abrasion resistant, corrosion resistant, dry lubricant
o Seat belt clips, pistons, fasteners, pans, plates, washers, solenoid plungers
• Performance Coatings for Countless Industrial Applications
o Footwear Applications, Paper Industry, Medical Device Industries, Hardware Industry, Gardening, Lawn and Garden, Pharmaceutical, Military, Petrochemical, Welding, Wastewater Treatment, etc.
American Industrial Coatings Company
Coating Solutions, Inc. is an American company that specializes in the application of industrial coatings for clients that require a partner that is very responsive to their manufacturing needs. Premium non stick coatings including Teflon® coatings are applied with precision. We offer quick turnarounds without sacrificing quality or economical costs. A typical project can be completed in 3 to 5 days and 24 hour rush services are available!
Contact Coating Solutions Inc. to request a quote today at: (651) 762-5700.