Industrial Coating Applicators MN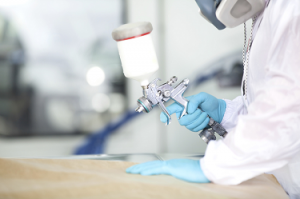 In almost every single industry, Chemours® Teflon® and fluoropolymer coatings have been an extremely useful tool in helping companies do their job more smoothly and efficiently. Industrial coatings offer many advantages to products and machinery. It allows for abrasion resistance, temperature stability, chemical resistance, nonstick properties as well as a dry lubricant feel. It's no secret that Chemours® Teflon® and fluoropolymer are helpful tools that allow many different industries to run more efficiently. However, industrial coating applications will only take you so far. Chemours® Teflon® and fluoropolymer only does its job well when it is applied well. At Coating Solutions, we provide Chemours® Teflon® and fluoropolymer coating results that are impeccable every application.
Teflon® & Fluoropolymer Coating Process
At Coating Solutions, we pride ourselves in delivering the best at Chemours® Teflon® and fluoropolymer coatings. We follow a rigorous step-by-step process that allows for beautiful, long lasting results for our customers. We begin by prebaking every substrate to ensure that all oils are removed and allowing for the coating to stick properly. We then grit blast the substrate with aluminum oxide. This removes scales, rust and any previous coatings that may have been applied. Then comes the fun! We manually spray on the desired Chemours® Teflon® and fluoropolymer coating to ensure that every portion is even and complete. After the coating is applied, we follow curing specifications depending on the type of coating that was applied. Lastly, we perform quality control measures before any packaging or shipping is complete. This ensures that our customers will always receive more than satisfying results.
Benefits of Coating Solutions
Apart from our impeccable quality results that Coating Solutions deliver, we aim to outshine any other coating company in the business. When you choose our company, you are choosing to have a friend in the business for life. We treat every customer like our own and make every order our priority. Not only is our quality unsurpassed, the benefits just keep getting better. We offer the fastest turnaround time in the industry, allowing for you to get your items back in a timely manner so that your production can continue. Typically, our turnaround time is anywhere between 3-5 days but if you are in a rush, 24-hour turnaround time is also available. Not only are we quick and efficient, we provide low minimum lot charges for customers that don't necessarily need a big order.  We understand that not every order needs to be massive. In an effort to continue our relationship with many industries, low minimum lot charges allow for you to get items that you need coated quickly and move on.
For more information about industrial coating applications, give us a call today. Contact Coating Solutions today for more information at (651) 762-5700