High Quality Fluoropolymer Coating Guaranteed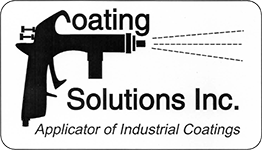 If you are looking for a fluoropolymer coating application company that values our customers and promises the highest quality application in the industry, look no further than Coating Solutions, Inc. Our team understands that you do not want your parts and equipment out of production for an extended period of time while you wait for the fluoropolymer coating application to be completed, so we have designed our entire business model to meet your needs.
Benefits of Fluoropolymer Industrial Coating
If you are investigating Chemours® Teflon® and fluoropolymer industrial coatings, you likely already know about the many benefits that they offer including non-stick and non-wetting properties, chemical resistance, temperature stability, and its low coefficient of friction. These qualities are likely exactly the reason you want or need your equipment coated in the first place. Fluoropolymer industrial coatings increase overall efficiency and productivity for your business, making cleaning each part easier and extending the life of the equipment.
Why Choose Coating Solutions?
Coating Solutions understands that you have many choices when it comes to partnering with a coating application company. So, why choose us? Here are some of the benefits to working with the team at coating solutions:
1. We are a family owned business: As a family owned business, we are especially connected to our customers. We answer our phones, get to know what our customers need and want and work to always exceed expectations.
2. We stand behind our products: We have put an entire multi-step process in place for our coating application and follow the process for each and every job we take on. We inspect your newly coated equipment at each step so that you can be confident when you receive it back, it will meet your expectations.
3. We offer many different options for fluoropolymer industrial coatings: We use different types of coating depending on customer needs. Each type has its unique properties. Some of the most common types requested are Teflon® PTFE, Teflon® FEP, Teflon® PFA, Teflon® S, Speciality Systems, and Xylan® XLR. We can help you choose the best coating for your job.
4. Fast shipping: Our turnaround time is generally 3-5 business days and we will ship your equipment back fast – rush shipping is available if needed.
5. We offer a low minimum lot charge: You will never pay more to coat one item than you would to coat 100. As a small business, we understand that keeping costs low is important.
For more information about our high quality fluoropolymer industrial coating, call Coating Solutions at 651-762-5700.