Food Processing Industry Coatings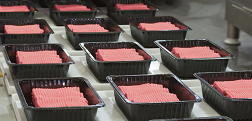 Teflon® is a great coating product to use, and is extremely diverse. Teflon and other fluoropolymer coatings offer great protection for a variety of industries because of its unique properties. These types of coatings are known for being nonstick, resistant to heat and also resistant to abrasions.
 Turnaround is Typically 3-5 Days
Today, teflon coated pots, pans, blades and other cooking supplies is a top pick for many food production companies and food processing industries. Coating Solutions has been in operation for over twenty years and works with several fortune 500 companies including Medtronic, 3M and General Mills. Providing great service and exceptional products has allowed us to grow to one of the most successful Teflon® coating businesses in the industry. Being family owned and operated, our values are in the right place and we understand the meaning of relationships and building strong relationships with our customers. We are here for you and only provide our customers with excellent service and also are extremely timely. Our turnaround is typically 3-5 days so that you can get back to production and continue business as usual.
Food Industry Coatings
With Teflon® and Fluoropolymers' unique properties make these coatings ideal for machinery in the food processing industry. If you are in the food processing industry, you understand how quickly your machinery can get sticky from sugars, or dirty and clogged from wet flours. When your machinery gets dirty, clogged and/or sticky it can make production inefficient or come to a halt. Liquid Lubricants are not an option when you are working with food and therefore it is necessary to have machinery that is easy to clean and does not get clogged, collect gunk, or get sticky and Chemours® Teflon® gives you the ability to keep your equipment clean and keep production moving. Coating Solutions will coat any part needed for food processing machinery – that is, any part that can withstand high cure temperatures.
Food Processing Industry Coatings of Choice Quick Turnaround
Working with large companies, we have coated just about everything you can think of. With our quick turnaround and great quality work, we can make your equipment work great for you. We have coated a variety of items for the food production industry including: Waffle Irons, Bread Pans, Mixers and Beaters, Hoppers, Dough Rollers, and Blades. If you are looking to have machinery Teflon® coated, we are here for you. Give us a call and we will make this process go as smooth as possible in a timely and affordable manner.