Fluoropolymer Product Selection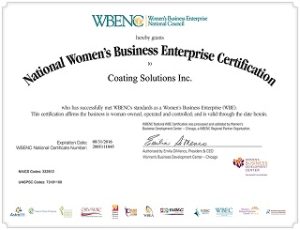 The dozens of fluoropolymer options on the market can present a maze of performance, application, and thickness properties to untangle. The untrained don't know where to start, but the fluoropolymer functional coating experts at Coating Solutions have years of accumulated knowledge that let them know intuitively where to start. Often, fluoropolymer product selection is a true "process of elimination." Do not play a guessing game…contact the experts for advice. Following are just some things to consider when choosing the right fluoropolymer:
What function Do You Want It To Do?
Most of the time, there is one primary function that a customer is looking for a fluoropolymer to perform. The most common examples are non-stick, low coefficient of friction, corrosion resistance, abrasion resistance, and chemical resistance. Other functional considerations involve the end-use of the product being coated. For instance, will it be able to pass FDA regulations for food, consistency expectations for medical devices, or legal regulations for degradation?
What Is Harsh About The Environment Where It Will Perform?
Fluoropolymers are used in wide-ranging applications that can be extremely sterile (clean rooms) or extremely harsh (oil rigs). High temperature coating considerations can eliminate many classes of fluoropolymer because each formula has its own melting point and temperature range specification. And there are natural tradeoffs. A coating that is less tolerant to high temperature, for instance, will likely not be as durable.
Does The Part Have Unusual Shape Or Sharp Internal Corners?
The chemistry of fluoropolymers varies by product, formula, and primer coats used. One of the most important variations is the range of film thickness within which the film will perform optimally. If this thickness is incompatible with a curve, bend, or groove in your part, you'll have to consider other options.
Considered Cost Factors Associated With Each Option?
A coating that appears to have similar qualities and a similar price might cost you a lot more after considering total costs. For instance, a competitively priced option might require a thicker film application and cover only half the square foot area. The total cost is then much higher for that option.
Ask For Expert Advice On Your Fluoropolymer Product Selection
There are many benefits to fluoropolymer coatings. However, there is no company that does it better than Coating Solutions. With low minimum lot charges, fast turnaround times and the highest quality of Teflon® and fluoropolymer coatings on the market today, Coating Solutions is the only solution worth choosing. For more information about our services and the benefits of Teflon® and fluoropolymer coatings, give a call today at (651) 762-5700 or email sales@coatingsolutions.com.