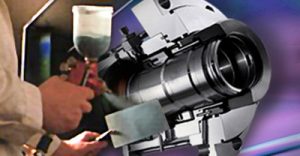 Are you located in the twin cities and looking for a teflon or another fluoropolymer application company? Then come on over to Coating Solutions, located just outside of St. Paul, providing great service to the community for more than 20 years! Coating Solutions is a top of industry fluoropolymer industrial coating application company. We understand that when you ask for a service, you want it done professionally and timely and that is what we do here. Our company has been founded on principles to serve our customers to the best that they deserve. We have been providing our clients with coating services since 1995, and we think because of these principles it has helped make our business successful.
Fluoropolymer Topcoat
There are many different types of topcats that you can choose from. Each one has its own unique properties that help determine which will be best for your product. When you choose a coat the biggest thing you need to consider is the cure temperature. The product needs to be able to withstand baking at the cure temperature in order to qualify for the chosen coating. Some metals such as tin and lead have melting points around 700 degrees and therefore they do not qualify for all Fluoropolymer Topcoats.
Typical Fluoropolymer Topcoat Cure Temperature
PTFE 750°F (398°C)
FEP 650°F (340°C)
PFA 700°F (370°C)
Teflon® S 350-650°F (175-340°C)
Specialty Systems 800°F (427°C)
Fluoropolymer coatings have many unique properties that make them useful for an array of industries. They are non stick, non wetting, temperature stable/resistance, low coefficient of friction, resistant to almost all chemicals, have unique electrical characteristics, and have abrasion resistant advantages. These reasons make getting your product coating extremely important and beneficial.
Fluoropolymer Industrial Application Company
Located outside of St. Paul, Minnesota, we are an experienced Chemours® Teflon® coating applicator, as well as an applicator for Whitford fluoropolymer products. Being family owned and operated, as well as an American company, we know the importance of maintaining customer relationships by providing great customer service. When you call us, we answer our phones. We are always here to help you, and if you need something done immediately we will stay late to make sure that we accomplish that job for you. For reliable, trustworthy, and American Teflon® and fluoropolymer coatings, request a quote online to day or call us at (651) 762-5700.