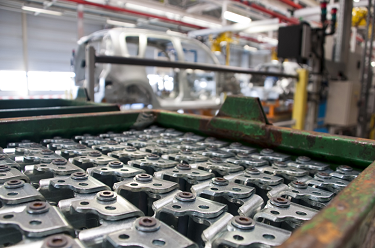 The Industrial Capital of the nation needs reliable Teflon® and other fluoropolymer coatings. Whether you need coatings for manufacturing automobiles or steel, food processing, aerospace, machine shops or something else, the coatings need to be reliable and readily available. Coating Solutions is located in the Twin Cities and has been providing fluoropolymer coatings with a fast turnaround to industrial companies around the country for more than 20 years. Customers come to us whenever they need coatings due to our three-fold approach to customer service: provide high quality coatings, have the lowest minimum lot charge in the industry, and have a very fast turnaround with one day rush available. This ensures that people get what they need at a fair price, and that they get it quickly so as to minimize production lag times. If you need self-lubricating coatings or chemical resistant coatings, temperature resistant or nonwetting coatings, we can help you out. Contact us today and let's get you the coatings you need to be productive.
Coatings for Motor Vehicle Manufacturing
Companies that work in automotive manufacturing have many needs for fluoropolymer coatings such as Teflon®. These coatings can ensure that machinery parts and production run smoothly, getting the most out of your process. If you need dry-lubricant coatings or abrasion resistant coatings, chemical resistant or coatings with a different property of need, we can help you out. We can also accommodate any size order and any sizes of parts. Give us a call and we'll get you what you need.
Steel Production Coatings
The production of steel requires machinery parts that are versatile. If you need your parts to be covered with temperature resistant coatings or abrasion resistant coatings, we can do that. We can help you be more productive and save costs related to replacing parts. Simply contact us and we'll get the process started.
Food Processing Teflon® Coating OH
Food processing companies have many needs for FDA approved nonstick coatings. Theses coatings make sure that food runs through production lines seamlessly, that there is less waste, and that machinery is easier to clean. They are also temperature resistant, so they won't wear away during cooking processes. If you need Teflon® coatings for your food processing operation, call Coating Solutions today.
Teflon® Coating Company
Coating Solutions has worked with many customers from Ohio over the last 20 years, helping them with their coating needs. Some of the other industries we often work with include aerospace, laundry, lawn & garden, mercantile, packaging, and many other forms of manufacturing. Give us a call and benefit from our low minimum lot charge, fast turnaround, and high quality today.