Family Owned Coating Application Company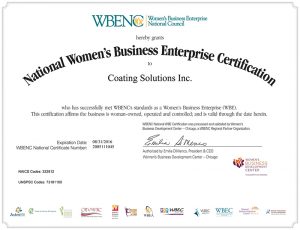 It is more important than ever before to support local, family owned companies around the world. That includes the coating application industry as well. If you are in search of a trusted, affordable and reliable coating application company that is family owned, look no further than our team at Coating Solutions, Inc. Dating back to 1995, we've been providing our community with Teflon® coating applications for all sorts of industries. Since we are a family owned coating application company, it should come as no surprise that family is extremely important to us.
For that reason, we treat every single one of our clients as family as soon as our relationship begins. We understand that when Teflon® coating applications are needed for your business, they are needed quickly. We make it a priority with every application to get the product to our clients as quickly as possible. To top it off, we want the Teflon® coating application that you receive from Coating Solutions, Inc., to be the best on the market and that's exactly what our clients receive. There's no better time than now to join the Coating Solutions, Inc. family. It's definitely a decision you will not regret.
Fast Turnaround With Low Minimum Lot Charge
Not only do we treat our clients like family, but there are some other very important perks to be aware of. These additional perks that you get access to by partnering with Coating Solutions, Inc., for your coating application needs includes:
● Super Fast Turnaround Times – Typically, we're able to turnaround an order within 3-5 days so that your business is minimally affected. We also offer one day rush as an option if there is ever a need.
● Low Minimum Lot Charge – Our team at Coating Solutions, Inc., takes pride in offering the lowest minimum lot charge in the coating application industry. We're more about making sure that our clients have exactly what they need rather than trying to empty our clients' wallets.
● Guaranteed Quality – Our Teflon® coating application is guaranteed. That's how confident we are in our coating applications.
If you are looking for the right coating application company for your Teflon® coating needs, don't underestimate the importance of choosing the right partner. As a family owned coating application company, our team at Coating Solutions, Inc. is eager for you to become part of our family. To learn more about our Teflon® coating solutions or to request a quote, give us a call today at (651) 762-5700.