Exceptional Fluoropolymer Coatings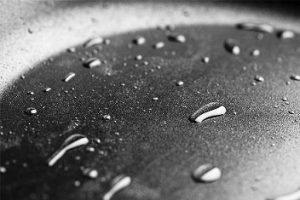 When it comes to choosing the right fluoropolymer coating company for your coating needs, you need to choose the team that offers the total package. Sure, we all produce good work, but the overall package that you receive from our team at Coating Solutions simply cannot be matched. Our exceptional fluoropolymer coatings are provided quickly, and the quality of our products are top notch.
There are plenty of reasons why a wide range of industries utilize fluoropolymer coatings on a regular basis. First and foremost, fluoropolymer coatings are well known for being nonstick. This enables industries to utilize these coatings to help maximize the efficiency of their equipment. Fluoropolymer coatings also have nonwetting properties that many of our clients enjoy.
Critical Properties of Fluoropolymer Coatings
Thanks to being oleophobic and hydrophobic, water beads off of the equipment making cleanup much simpler. If being temperature resistant is important, our fluoropolymer coatings are the perfect option for your business. The low coefficient of friction allows these fluoropolymer coatings to be used as a dry lubricant. Equipment and parts coated with fluoropolymer coatings helps them become very resistant to abrasions. Investing in our fluoropolymer coatings will help maximize the lifespan of your equipment, speed up the cleanup process and reduce the amount of servicing needed on these items.
By choosing to work with our experienced team at Coating Solutions, you'll gain access to a lot of perks that other coating companies aren't able to offer. What perks are those, you may be asking? Below are the perks that we're able to offer our clients:
● Decades of Experience – We've been specializing in fluoropolymer coatings since 1995.
● Quick Turnaround – No need to worry about having to wait a long time. We offer extremely fast turnaround times, which typically range 3-5 days. If that's not fast enough, we offer a one-day rush option as well.
● Low Minimum Lot Charge – We are proud to offer the lowest minimum lot charge in the industry. We understand that not everyone has large orders, so we do not penalize our clients that need just a few parts coated.
● Competitive Pricing – You will find that our prices are always competitive!
If you are looking for the right coating company to handle your fluoropolymer coating needs, look no further than Coating Solutions. We offer exceptional fluoropolymer coatings that will help make your equipment more efficient. To learn more about the perks of choosing our team for your fluoropolymer coating needs, give us a call today at (651) 762-5700 or email sales@coatingsolutions.com.