Coatings For The Food Processing Industry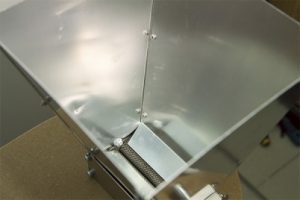 The food processing industry is fast paced and competitive. Anything a business can do to improve productivity and reduce down time can make a bid difference in the overall performance of the company. Using a high performance, non-stick coating on bake ware, blades, pans and mixers can improve the work environment and process. Coatings Solutions Inc. is a woman owned business that understands the demands of the food processing industry and therefore provides coatings that can withstand high temperatures and perform beautifully. Our commercial clients can expect nothing less from Chemours® Teflon® and Whitford Xylan® high performance coatings that are engineered for excellence.
Factors in High Performance Non Stick Coatings
Utilizing high performance materials in the day-to-day operation of a food processing company can result in many benefits. Some of the factors that you want to look for when identifying a high quality coating for commercial kitchen equipment include the following:
• Food Safe
• Non-Stick Reliability
• Easy to Clean
• FDA Compliance
• Heat Resistance
• Wear Resistance
• Chip Resistance
• Abrasion Resistant
• Superior Release
• Long Lasting
• Low Friction Properties
• Chemical and Corrosion Resistance
Easy to Clean Up Sticky Ingredients
Any piece of machinery or equipment that comes in contact with food making ingredients must be up to the task. Ingredients like bread dough, syrup, honey and eggs can easily gum up the mechanisms of a mixer with beaters. These sticky ingredients can make the cleanup process slow and labor intensive. Coating Solutions Inc. provides customers with time saving, money saving materials for use in commercial kitchens and food processing industry leaders.
Fluoropolymer Coated Food Processing Machinery
Fluoropolymer chemical compounds are excellent for applications where being non-stick is a great quality to have. When you think of the sticky, gooey ingredients that go into producing some of your favorite foods you will have a better idea of why food processing businesses rely on fluoropolymer coatings to make life easier. There are several different products that fall under the umbrella of fluoropolymer compounds for coated food processing machinery and trade equipment.
Commercial Food Processing Equipment Coater
For expert advice and application of top quality, high performance teflon coating for the food processing industry, go to Coating Solutions Inc. As a reliable and honest, commercial food processing equipment coater, our team knows how to provide excellent customer service and support. We utilize the best coatings for your business including industry leaders like Chemours® Teflon® and Whitford Xylan® for superior non-stick, wear resistant quality that is easy to clean.
Contact Coating Solutions Inc. to request a quote today at: (651) 762-5700.